Cirneco dell'Etna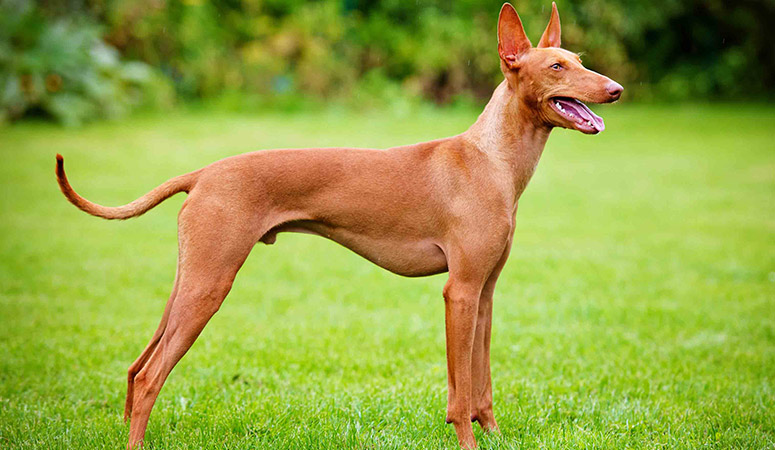 The Cirneco dell'Etna is a rare breed of hunting dog, originated from Italy. With a keen sense of smell and quick speed, this bred is usually used to hunt small game, such as rabbits. But as housedogs, they are mild, low-maintenance companions with loyal and gentle nature. As a typical Sicilian Hound, he is more trainable than usual sighthound with independence and nature.
| | |
| --- | --- |
| Other Names | Cirneco, Sicilian Hound, Sicilian Greyhound, Sicilian Rabbit Hound, Sicilian Rabbit Dog |
| Color | Chestnut |
| Height | Males: 18-19.5 inches, Females: 16.5-18 inches. |
| Weight | Males: 22-26 pounds, Females: 17-22 pounds. |
| Life Span | 12-14 years |
| Personality | Affectionate, Friendly, Independent |
| Exercise | Regular Exercise |
| Origin | |
| | |
| --- | --- |
| Popularity | #185 |
| Groom Needs | Occasional Bath/Brush |
| Kids Friendly | Yes with supervision |
| Dog Friendly | Yes with supervision |
| Watch Dog | |
| Family Dog | |
| Litter Size | 3-5 puppies |
Introduction
The Cirneco dell'Etna (plural is Cirnechi dell'Etna) is a medium-sized dog of slender build. It has long legs and a pair of erect ears that add alertness to its elegant stature. They naturally tend to be independent, adventurous, curious, and playful. A Cirneco dell'Etna might begin to contemplate an escape beyond the walls of your fence when you let it into the yard. However, the dog is easily trainable and highly intelligent. Cirnechi dell'Etna come in a short coat (much shorter around the head) that is usually sleek and lies close to the body. The accepted colors include fawn, sable, different shades of tan, white and fawn, and orange and white. However, light to dark shades of tan are more desirable.
Male dogs stand roughly 18-20 inches from shoulder to paw, weighing around 22-26 pounds. Female dogs, at maturity, should weigh around 17-22 pounds, and stand 16-18 inches at the shoulder. On average, Cirnechi dell'Etna have an average lifespan of 11-14 years.
Living with Cirneco dell'Etna
History
The Cirneco dell'Etna is a tough breed that has evolved over a few thousand years ago. Theories attempting to explain the origin of this breed have always pointed toward Sicily and Mount Etna as the place of its early development. However, some historians are of the opinion that the Cirneco dell'Etna can be linked to Cyrene, in Libya, due to its name (Cirneco, derived from Greek, meaning "dog of Cyrene"). It is said that this breed shares an origin with the Pharaoh Hound, with some experts describing the Cirneco dell'Etna as an offshoot of the Pharaoh Hound. The Italian Kennel Club had added "dell'Etna" to the name of the Cirneco when it accepted the official breed standard in 1939. This was an allusion to Mount Etna, on the east coast of Sicily, which is the most active volcano in Europe. Mount Etna has a large population of Cirneco dell'Etna dogs.
The Cirneco has always been a hardy breed, able to survive the harshest of conditions and maneuver rough terrains. They were primarily involved with hunting birds, hare and rabbits. These days, however, they are more popular as companion dogs. Around the 1930s, the Cirneco dell'Etna breed almost disappeared due to a drastic decline in their demand. A veterinarian, Dr. Maurizio Migneco, wrote an article about the endangered breed and later published it in 1932. The article drew public attention, prompting the Sicilian aristocrat Baroness Agata Paternó Castello to undertake a breeding program to revive the Cirneco dell'Etna. The breed is not popular among Americans, it was recognized by the American Kennel Club (AKC) in 2015 as a member of the Hound Group.
Helpful Information
Breed Club: CIRNECO DELL'ETNA CLUB OF AMERICA
Breed Club Link: http://www.cirneco.org/
Breed Club Rescue: