Chow Chow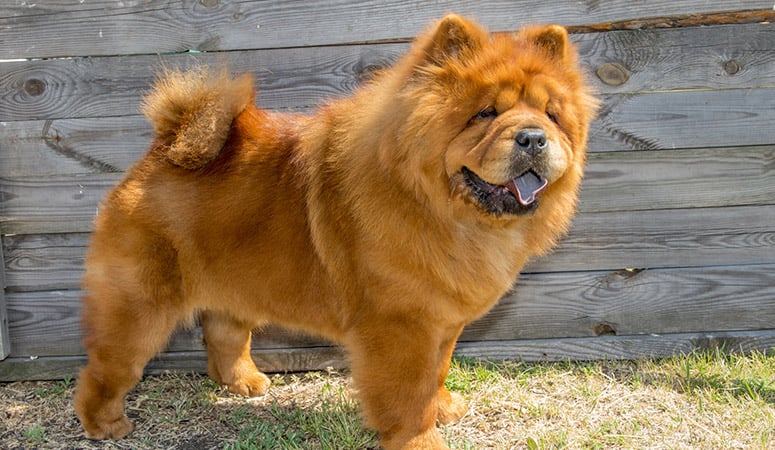 Here come Chow Chows, known for serious-mind and discernment, so trainability can be easy for them. Apart from training for obedience, owners can keep Chows healthy by taking them out for moderate exercise. Chows are prone to suffer from diseases like Entropion.
| | |
| --- | --- |
| Other Names | Chow |
| Color | Red, Cinnamon, Black, Cream, Blue |
| Height | Males: 18-23 inches. Females: 17-21 inches. |
| Weight | Males: 45-70 pounds. Females: 45-70 pounds. |
| Life Span | 8-12 years |
| Personality | Dignified, Bright, Serious-Minded |
| Exercise | Regular Exercise |
| Origin | |
| | |
| --- | --- |
| Popularity | #77 |
| Groom Needs | 2-3 Times a Week Brushing/Seasonal Shedding |
| Kids Friendly | No |
| Dog Friendly | No |
| Watch Dog | |
| Family Dog | |
| Litter Size | 4-7 pupplies |
Introduction
It's not hard to recognize the Chow Chow dog – they are completely 'different' looking dogs – one can't mistake that full-maned lion look and the teddy bear face! Chows too, are noted for the dark tongues and they also have a little extra something extra in their mouths; two extra teeth – most dog only have 42 teeth. He stands around 20 inches at the shoulders and weighs around 70 pounds. Chow Chows come in five different colors – black, cinnamon, blue, red, and cream, and red. Their beautiful furry coats can either be rough- or smooth-coated. The Chow Chow has a double coat but it can weigh him down in water or when wet. Their back legs are completely straight which makes them look like they have a stilted gait. The Chow is a one-person kind of dog, bonding just to one owner and scorning the others. Proper training and socialization of this furry delight will make him a wonderful companion.
History
The Chow Chow is an old breed, with beginnings that aren't very clear. One writer says that the Chow Chow originated in China 2000 years ago; possibly originating in Arctic Asia 3000 years ago, and then migrating to Mongolia, Siberia, and then to China.
Historians have found records of chow like dogs coming from the 11th century and Marco Polo himself wrote about them in his travels.
Some say the Chow Chow is a mix of the Mastiff of Tibet and the Samoyed dog from Northern Siberia. Others say it is a mix of the Elkhound, the Keeshond, and the Pomeranian! Who knows – but we are just so glad to have the Chow Chow that we know today.
In China, they were used as working dogs; trained to hunt, guard, and herd cattle. One emperor from the Tang dynasty adored these dogs and he owned 5000 of them.
Actually, the name 'Chow Chow' comes from a pidgin-English term that is used to describe anything that came from the East in the 18th century. It was a phrase describing different knick-knacks etc. It is thought the dog inherited the name from merchants who just couldn't be bothered at the time to properly mark what they were shipping!
Remember Sigmund Freud – the psychoanalyst? He owned a Chow Chow that he called Jofi. This dog would actually sit in on his sessions, helping children to feel more relaxed. Jofi 'knew' who was nervous, only approaching the calm patients, helping Freud to analyze his patients.
Chows were first shown in America in the 1890s, being admitted to the AKC in 1903.