Chinese Shar-Pei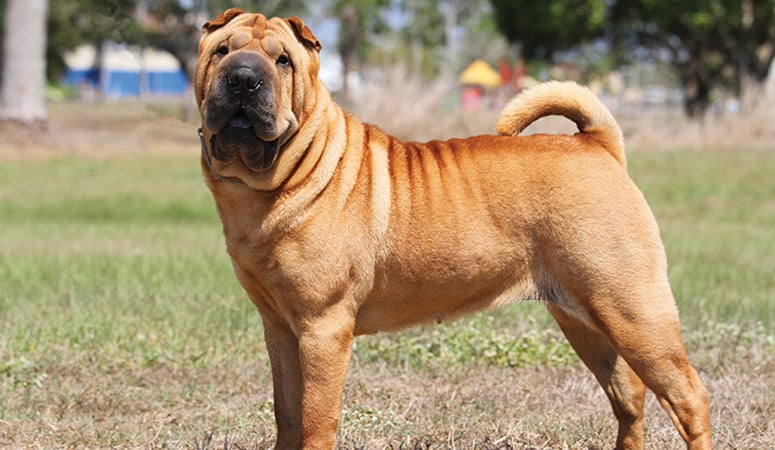 With medium size and odd physical traits—a blue-black tongue, small, sunken eyes, a broad "hippopotamus" muzzle and a scowling expression, the Chinese Shar-Pei was fascinating and intelligent, which makes him a good guardian dog and great companion of people. Fascinating but challenging, the breed is loyal to the family but unfriendly to the strangers.
| | |
| --- | --- |
| Other Names | Chinese Fighting Dog, Shar-Pei |
| Color | Apricot Dilute, Black, Black Sable, Blue, Fawn, Red, Blue Dilute, Chocolate Dilute, Cream Dilute, |
| Height | Males: 17-20 inches. Females: 17-20 inches. |
| Weight | Males: 40-60 pounds. Females: 40-60 pounds. |
| Life Span | 8-12 years |
| Personality | Loyal, Independent, Calm |
| Exercise | Regular Exercise |
| Origin | |
| | |
| --- | --- |
| Popularity | #65 |
| Groom Needs | Occasional Bath/Brush |
| Kids Friendly | No |
| Dog Friendly | No |
| Watch Dog | |
| Family Dog | Yes |
| Litter Size | 4-6 puppies |
Introduction
Known for their intelligence, doggedness, vigor, devotion, and trainability, Shar Pei gives you more than you require in a non-sporting dog. Their short, hard, and bristle coat come in all solid color varieties except white. The modern Shar-Pei are unlike their progenitors in having a well-wrinkled skin. Their sturdy build is an adaptation for their versatility as old peasant dogs.
Shar-Pei are rather medium-sized dogs of great strength. An average Shar-Pei stands 18-21 inches at the shoulder and weighs around 45-60 pounds, regardless of the gender. They are good companions of the family and yet they keep aloof from strangers. These dogs of ancient ancestry still possess the keen sight and elegance of a good watchdog. Shar-Pei has an average lifespan of 9-12 years. They are ranked 64th most popular dog breed by the American Kennel Club.
Living with Chinese Shar-Pei
History
The Chinese Shar-Pei dog breed has a vague and largely undocumented history, like many Chinese dog breeds. It is believed, however, to have originated from ancient dogs of the Southern province of China as far back as the Han Dynasty, some 2,000 years ago. The Shar-Pei dogs were peasant dogs and, as such, were utilitarian in that they were gun dogs, herd dogs, guard dogs, as well as sporting dogs (for they were bred to participate in dogfights too). It wasn't until the 19th century that the Shar-Pei dogs caught the attention of Western travelers, who identified them as the Chinese fighting dogs.
Towards the middle of the 20th century, due to the political hysteria in China, with the Communist party shunning all dog activities in the People's Republic of China around the 1940s, organized killings of several dogs of Chinese origin took place at the time. Although a few Shar-Pei dogs lived through the time to form a modern generation of the breed, the blow from this turmoil to their population almost drove the Shar-Pei breed to extinction. The survivors were later congregated in parts of Taiwan and Hong Kong.
A wealthy Hong Kong breeder, Matgo Law, drew the attention of the international communities (especially the United States) to rescue the Shar-Pei breed which was on the brink of fading out around the 1970s, with only a few hundreds of its members left. Dog fanciers pooled resources together and soon the breed was salvaged from the claws of extinction. The Shar-Pei breed was later recognized by the American Kennel Club in 1992.