Chihuahua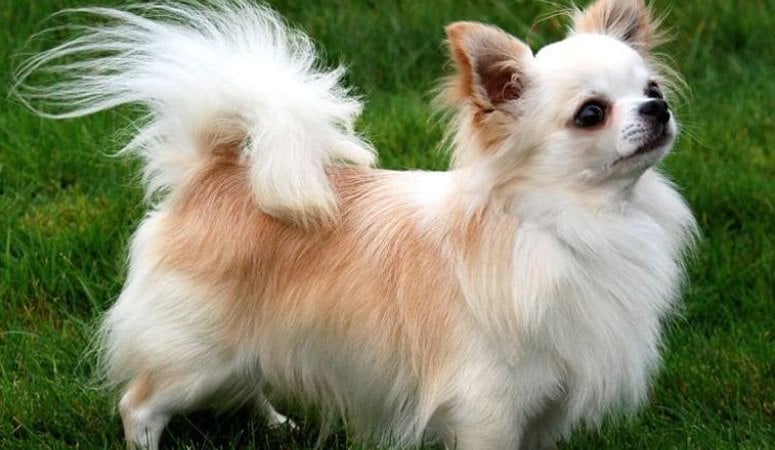 The Chihuahua is in a small size which has a saucy, alert expression, and big personality. Their coat is smooth with soft and shiny hair in different types and colors. As a national symbol of Mexico, Chihuahua is one of the oldest breeds of the Americas and among the top ten watchdogs recommended by experts.
| | |
| --- | --- |
| Other Names | Chihuahueno |
| Color | Black, Black and Tan, White |
| Height | Males: 5-10 inches. Females: 5-10 inches. |
| Weight | Males: 1-7 pounds. Females: 1-7 pounds. |
| Life Span | 14-16 years |
| Personality | Charming, Graceful, Sassy |
| Exercise | Regular Exercise |
| Origin | |
| | |
| --- | --- |
| Popularity | #35 |
| Groom Needs | Occasional |
| Kids Friendly | Yes with supervision |
| Dog Friendly | Yes with supervision |
| Watch Dog | |
| Family Dog | |
| Litter Size | 2-5 |
Introduction
"Graceful, charming, and sassy." They originally come from Mexico, named after the Mexican state Chihuahua. The cute pocket-sized dogs are full of irresistible attractions, and that makes celebrities love them – an extension of themselves probably! These cutie pies are the smallest dog breed in the world, weighing about 6 pounds and about 9 inches at the shoulder. They say dynamite comes in small packages and their huge personalities make up for that small size, to the point that they can even become aggressive! A Chi owner needs to socialize a pup so only their best paw is put forward when making new friends. Can you believe that you can choose from a variety of nine colors when choosing a Chihuahua? They can either be long-haired or short-haired. They rank 24th on the AKC list of dogs.
History
It is thought that Christopher Columbus brought the Chihuahua to Europe. In a letter to the King of Spain, he made mention of a small dog.
Like a lot of modern-day breeds which history is shrouded in mystery, so too is the Chihuahua. Nevertheless, there are some historians who have their theories on the history of the Chihuahua, believing it leads back to the state of Chihuahua in Mexico.
Apparently dog fanciers are believed to have discovered the earliest of Chihuahua specimens in the middle 1800s, and later, Mexican merchants sold them to border tourists, of which many were brought back to the US as pets.
Archeologists unearthing ancient burial shafts in Colima Mexico believe that the pots and sculptures depicting dogs on them were that of Chihuahua because they had such striking similarities, dating back to 300 BC.
There are other theories that link the Chihuahua to the Xoloitzcuintli or Xolo, a small, mostly hairless dog that roamed Mexico for thousands of years.
Some first written accounts of a Chihuahua come from a dog judge called James Watson. He immigrated from Scotland to New York in the 1870s. On his way, he bought a Chihuahua, Manzanita, for just 5$. He went back to buy more, and one became a champion, Juarez Bell. He wrote about these dogs in the American Kennel Register and Country Life in America.
In the 1890s, the Mexican president gave the famed Italian French opera singer, Adelina Patti a bouquet of flowers. Hidden inside was a small Chihuahua which she loved so much, she took it on many of her tours.
By 1915, 30 Chihuahuas were registered at the AKC and by the 1980s, there were 25,000 registered.