Chesapeake Bay Retriever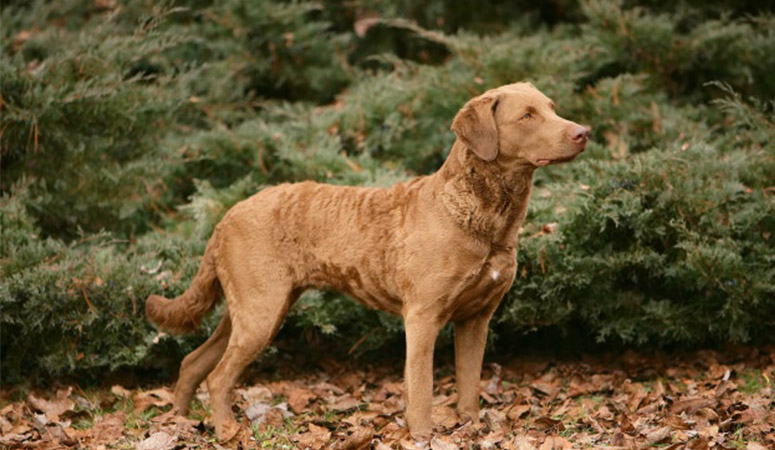 The Chesapeake Bay Retriever dog breed originated as a water dog used to hunt and retrieve ducks in the chilly chop of Maryland's Chesapeake Bay. This dog breed is smart, outgoing, affectionate, and loyal, his friendliness and good behavior make him a good and trustworthy companion animal.
| | |
| --- | --- |
| Other Names | Chesapeake, Chesapeake Bay Ducking Dog, Chessie |
| Color | Brown, Dark Brown, Dark Deadgrass, Deadgrass, Light Brown, Light Deadgrass, Sedge, Tan |
| Height | Males: 23-26 inches. Females: 21-24 inches. |
| Weight | Males: 65-80 pounds. Females: 55-70 pounds. |
| Life Span | 10-13 years |
| Personality | Affectionate, Bright, Sensitive |
| Exercise | Energetic |
| Origin | |
| | |
| --- | --- |
| Popularity | #46 |
| Groom Needs | 2-3 Times a Week |
| Kids Friendly | Yes with supervision |
| Dog Friendly | Yes with supervision |
| Watch Dog | |
| Family Dog | |
| Litter Size | 7-10 |
Chesapeake Bay Retriever Video
Introduction
Chesapeake Bay Retrievers come in a natural camouflage of a coat that takes on the color of the landscape of the bay where they developed. The double-coat is a wavy and waterproof affair that usually comes in brown, see or dead grass color with little markings of white. They are strong and powerful dogs with a natural tendency to outdo themselves in a bid to please.
Chessies, as they are fondly called are friendly and cheerful dogs, similar to the Labrador retriever. They are medium-sized dogs, a mature male stands to a shoulder height of between 24 and 26 inches, and weighs roughly 70-80 pounds on the scale. The females run quite smaller, bearing a weight of around 55-70 pounds on a frame 21-23 inches tall from shoulder to paw.
They are popular duck dogs that can double as keen watchdogs. Loyal companions, at home but can develop a mind of their own and begin to act up on very rare occasions. Chesapeake Bay Retrievers are trainable with the right amount of effort and they live up to about 12 years on the average.
Living with Chesapeake Bay Retriever
History
The Chesapeake Bay Retriever was developed in the Chesapeake Bay area around the mid-19th century. The record shows that the history of this dog breed can be traced to two dogs named 'Sailor' and 'Canton' which were rescued from a shipwreck in Maryland in 1807. Both dogs were identified as Newfoundland dogs; Sailor was male, while Canton was female, although they had both come from different parts of Newfoundland and there was no record of a litter they both had.
These ancestors of the Chesapeake Bay Retrievers were later bred in the Chesapeake Bay area with local dogs of the region to improve their features with emphasis for breed selection placed on performance and strength, rather than on a particular breed. Although it is not clear the totality of the breeds that contributed to the breeding of the Chesapeake Bay Retriever, some authorities claim that spaniels and hounds formed the core of it.
The dog breed so formed was had a remarkable combination of strength and agility, adapting it to its role as a water dog, as well as a land retriever. It was declared one of the three types of Chesapeake Bay Ducking Dogs in the 1870s. Later in 1918, the American Kennel Club recognized the Chesapeake Bay Retriever as a dog breed of the United States. The Chesapeake Bay Retriever was made the official dog of Maryland in 1964.