Cavalier King Charles Spaniel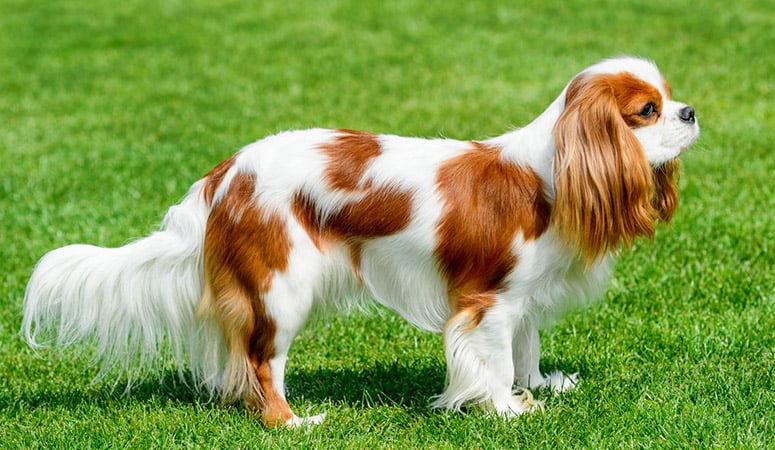 The Cavalier King Charles Spaniel has a sweet face with bright, round eyes, his silky and smooth coat combined the gentle gait give this breed a graceful quality. They are highly affectionate, patient, and playful, and they can get along well with both children and other animals, also, they require much human interaction.
| | |
| --- | --- |
| Other Names | Charlies |
| Color | Black & Tan, Black & White, Blenheim, Ruby |
| Height | Males: 12-13 inches. Females: 12-13 inches. |
| Weight | Males: 11-18 pounds. Females: 11-18 pounds. |
| Life Span | 12-15 years |
| Personality | Affectionate, Gentle, Graceful |
| Exercise | Calm |
| Origin | |
| | |
| --- | --- |
| Popularity | #16 |
| Groom Needs | Weekly |
| Kids Friendly | Yes |
| Dog Friendly | Yes |
| Watch Dog | |
| Family Dog | Yes |
| Litter Size | 5 |
Cavalier King Charles Spaniel Video
Introduction
The Cavalier King Charles Spaniels aren't as intimidating as their long name suggests. They are a small breed of dogs, categorized as toy dogs. They are so diminutive that there's hardly a perceptible difference in size between a male and a female type if any at all. The standard Cavalier rises to 12-13 inches at the shoulder and is likely to tip the weighing scales somewhere between 14 and 17 pounds.
The Cavalier wears a beautiful and regal splendor in their smooth, silky and colorful coat which comes in four discrete varieties; Blenheim, Ruby, black and tan, and the tricolor (black, white and tan) variety. Although the Cavalier King Charles Spaniels have a royal background, they still come around to chasing their own share of squirrels and engaging in the old-fashioned gamboling about the house. They enjoy the company and are friendly with children. A Cavalier King Charles Spaniel has an average lifespan of between 11 and 15 years.
Living with Cavalier King Charles Spaniel
History
The Cavalier King Charles Spaniel that is now a family dog, owned and loved by many in America today wasn't exactly an à la mode possession in earlier times. Their ancestors were hunter dogs for a major part of their history. These were known as the Small Spaniels to distinguish them from a larger breed of Spaniels of old times. The history of this toy-type spaniels dates back to the beginning of the Common Era, around the 1000s, when Small Spaniels were common as hunting dogs in Europe.
The original Spaniels began the historical journey in the old-time United Kingdom. Centuries passed and by the 16th century, Small Spaniels had risen to become household dogs for the wealthy who could afford to keep them. One of the earliest predecessors of the small-type Spaniels was King Charles Spaniel, named for King Charles II, during the Restoration. And he was fond of Small Spaniels.
Towards the end of the 19th century, breeders attempted to replicate the King Charles breed, which led to the crossing of toy Spaniels with the Japanese Chins. The result was a flat-faced, dome-skulled hybrid much similar to King Charles', hence they were named the King Charles Spaniels, also called 'Charlies'. King Charles Spaniels soon grew in number while the Small Spaniels of old receded into extinction.
The Cavalier Club was founded in 1928, after the death of Roswell Eldridge. Roswell Eldridge was the American who dreamt of rejuvenating the Cavalier-type Spaniels of old-time Blenheim. He tagged a huge money prize for breeders who could recreate these Spaniels which had a longer face and flat skull, in contrast to flat-faced and dome-skulled Charlies.
The club continued in the light of Eldridge's objectives and soon Cavalier King Charles Spaniels were back on the show. But World War II so dealt a terrible blow to the fledgling line of Cavalier King Charles Spaniels that by the end of the war there were barely ten of them left, as these dogs were used for food during the period. These survivors are the direct antecedents of present-day Cavalier King Charles Spaniels.