Canaan Dog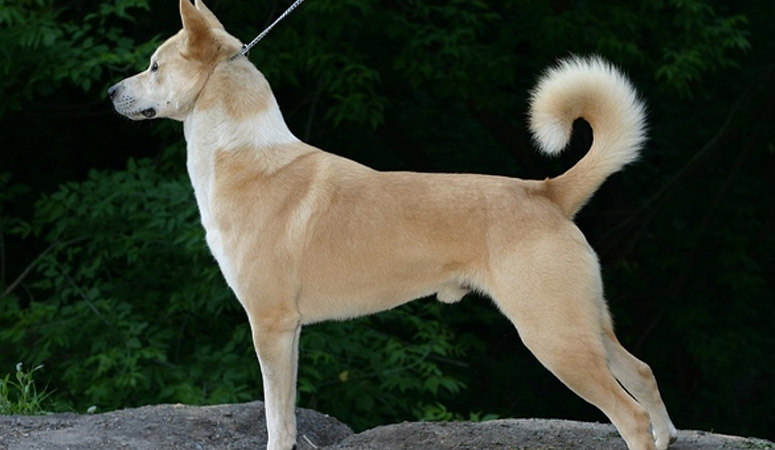 The Canaan Dog has medium size and moderate substance that combines strength, agility, and endurance. They can change directions instantly with a brisk, ground-covering trot. With double coat, they can adapt to great extremes in weather ranging from hot days to cold nights. As the national dog of Israel, this breed is docile with family, but aloof with strangers. Alert and clever, they're good guardians of flock and home.
| | |
| --- | --- |
| Other Names | Kalef K'Naani, Canaanite Dog |
| Color | Black, Cream, Golden, Liver, Red,Tan, White |
| Height | Males: 20-24 inches, Females: 19-23 inches. |
| Weight | Males: 45-55 pounds, Females: 35-45 pounds. |
| Life Span | 12-15 years |
| Personality | Confident, Alert, Vigilant |
| Exercise | Regular Exercise |
| Origin | |
| | |
| --- | --- |
| Popularity | #179 |
| Groom Needs | Weekly Brushing |
| Kids Friendly | No |
| Dog Friendly | Yes with supervision |
| Watch Dog | Yes |
| Family Dog | |
| Litter Size | 5–8 pups |
Introduction
The Canaan Dog is also called the Palestinian Pariah Dog or the Bedouin Sheepdog. They are typically wild in appearance, with a pair of low-set ears and a wedge-shaped head. They are slightly angulated and when they walked, they did so with grace and elegance. Well, Canaan dogs are much on the alert all day long, and very inquisitive– little wonder they distrust strangers and easily get uncomfortable with a new, unfamiliar environment. Though when a Canaan Dog gets familiar with you, it can be your best friend ever, what's more, they are loyal to their knees! Their double coat has a harsh and dense topcoat and a close and profuse undercoat. Acceptable color varieties include solid black, sandy, brown, tan, liver, white, brown, and white or, even, black and white.
Full-grown males stand 20-24 inches at the shoulder, weighing 40-55 pounds. A standard female Canaan Dog should have a height of about 18-23 inches (from shoulder to paw) and weigh in the range of 35-45 pounds. The Canaan Dog is a true member of the Herding Group. It has a lifespan of 11-15 years.
History
The Canaan Dog is assumed to have taken origin many centuries ago, during the Biblical era of the Israelites, in the Land of Canaan. Some accounts state that the breed had existed amongst the Israelites, and had been an indispensable guard for their tents and livestock. This is the widely accepted account of the history of the Canaan Dog. More so, it is believed that when the Romans invaded the area some twenty centuries ago, or thereabouts, many Israelites abandoned their dogs in their flight from their homeland. The Bedouins are thought to have captured wild male pups of this breed and had trained and bred them to herd their flocks. Many artifacts of old, including archaeological excavations, have rather attempted to prove the place of origin of this breed to be ancient times' Canaan ( covers parts of modern times' Israel and Lebanon).
In the 1930s, there was a demand for service dogs for the Israeli Defence Force. The European dogs which were in use were rather not acclimated to working under the harsh climatic conditions in Israel. Dr. Rudolphina Menzel was granted to seek out and breed dogs which could serve the purpose much better. So, Menzel set out in search of native feral dogs of the region, and after about six months, she found her first dog. Months later, she intensified her search even further, and by 1934 she had started a breeding program. Her efforts had far-reaching benefits as she developed Canaan dogs which were even employed as war dogs for the War of Independence. After the Second World War, these dogs were trained by Menzel as guide dogs to help blind people. Canaan Dogs had probably arrived in America in the mid-1960s, and later gained an AKC (American Kennel Club) recognition in 1997.