Cairn Terrier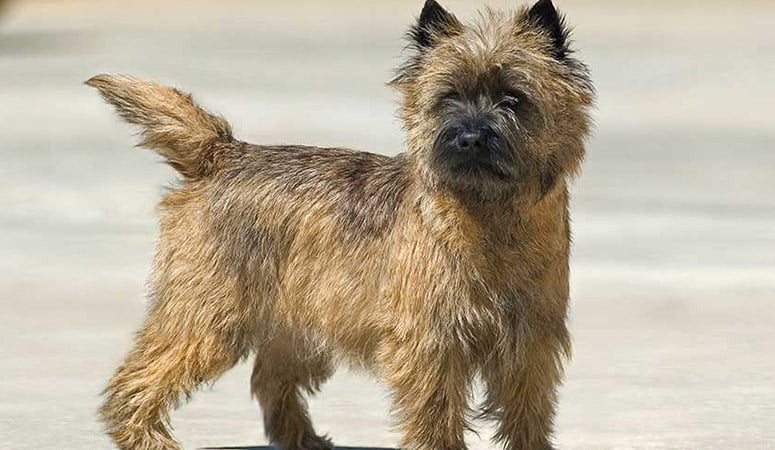 With a short, wide head and a free-moving, short-legged body, Cairn Terriers were originally bred to fearlessly root out foxes and other small, furred prey. Curious and alert, Cairns like to have their own place to dig and explore. With double coat, harsh and wiry outer and downy beneath, they have the terrier qualities of gameness, independent thinking, and true-blue loyalty, which make they do best with lots of close family contact.
| | |
| --- | --- |
| Other Names | Cairn |
| Color | Black, Brindle, Cream, Gray, Red, Silver, Wheaten, Red Brindle, Gray Brindle, Cream Brindle, Black Brindle |
| Height | Males: 10-12 inches. Females: 9-11 inches. |
| Weight | Males: 14-17 pounds. Females: 13-16 pounds. |
| Life Span | 13-15 years |
| Personality | Alert, Cheerful, Busy |
| Exercise | Regular Exercise |
| Origin | |
| | |
| --- | --- |
| Popularity | #72 |
| Groom Needs | Weekly Brushing |
| Kids Friendly | Yes with supervision |
| Dog Friendly | Yes with supervision |
| Watch Dog | |
| Family Dog | |
| Litter Size | 2-10 |
Introduction
The Cairn terrier is just one ball of fun – he's lovable with bag loads of personality, enjoying spending his time around other doggy friends and people. He offers a gentle side that he shows to people and other animals. Often you will find him sitting in a chair staring out and looking like he is contemplating the things of the world! The Cairn has oodles of energy, loving to be outside in the garden exploring and digging. You won't see a Cairn terrier showing much aggression but as always, any breed of dog needs early training. He stands about 10 inches at the shoulder and weighs about 15 pounds. They are double-coated, being wiry on the outside, and coming in a variety of shades. The most common colors are black, grey, and cream, often with brindle included as well. Cairns don't shed excessively, and a weekly brush out should be enough to keep their coat in good condition. He needs twice-daily walks and enjoys play and interaction with his family indoors as well. If he isn't given enough attention, he can become destructive and bark incessantly.
Living with Cairn Terrier
History
The Cairn terrier is one of the oldest breeds of terriers, originating from the Highlands of Scotland. They were also apparently bred on the Scottish Isle of Skye.
He was once a hunter, chasing quarry between the cairns in the Scottish highlands. Cairns means "stones" and that's exactly what this little terrier was at home doing; hunting amongst the cairns.
Evidence shows that one strain of the Cairn terrier, the "Short-haired Skye Terrier," was founded by Captain Martin MacLeod of Drynock, Isle of Skye. He maintained a pack of silver-grey Short-haired Skye Terriers for forty years but then immigrated to Canada in 1845.
It was the persistence of Mrs. Alastair Campbell and Mary Hawke, British pioneers of the Cairn terrier, which led to the Cairn terrier being recognized by The Kennel Club in 1910. In England, the breed was so popular, the British Breeding Club had a motto which said, "The best little pal in the world".
Can you remember the movie, the Wizard of Oz, and the little dog called Toto? Well, he made the Cairn terrier a very popular dog to have after that movie.
Two other pioneers, Mrs. Henry F. Price and Mrs. Byron Rodgers were the ones responsible for the Cairn terrier gaining approval in the United States. The first Cairn terrier was imported to the United States in 1913. In 1917 the American Kennel Club granted membership to the Cairn Terrier Club of America.