Bulldog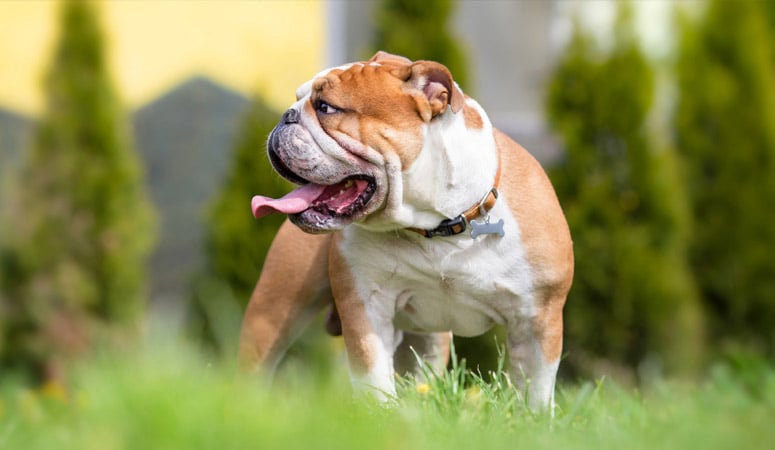 Bulldog is a kind of breed with a wrinkled face and a distinctive pushed-in nose, and it is the national symbol of England which is famous in "sourmug" face. Bulldog is easy to care for and it is a popular choice as a family pet because of his courage, friendliness and loyalty.
| | |
| --- | --- |
| Other Names | British Bulldog/English Bulldog |
| Color | Red, fawn, fallow, white and any combination of these colors. |
| Height | Males: 12-17 inches. Females: 12-17 inches. |
| Weight | Males: 50-58 pounds. Females: 40-52 pounds. |
| Life Span | 8-10 years |
| Personality | Friendly, Courageous, Calm |
| Exercise | Regular Exercise |
| Origin | |
| | |
| --- | --- |
| Popularity | #5 |
| Groom Needs | 2-3 Times a Week |
| Kids Friendly | Yes with supervision |
| Dog Friendly | Yes with supervision |
| Watch Dog | |
| Family Dog | Yes |
| Litter Size | 3-5 |
Introduction
For hundreds of years, many people considered the bulldog one of their favorite dog breeds as a companion. Note that the bulldog is characterized by a large, strong, square head, a strong, muscular appearance, which is really good for fighting. The bulldog's face is also characterized by a short square muzzle with strong, very convex, and underground jaws, which provides strength. This is a feature of bulldog. It has one of the most dangerous bites of all breeds. They may fear people however in the past it was not called an aggressive dog. Despite his fierce appearance and dominant personality, the bulldog is actually very gentle towards its owners. Its coat is short and can be of different colors: brindle, white, fawn, red, or yellow. Bulldogs are one of the most recognizable and are generally friendly to everyone he meets and is the fourth most popular dog breed in the United States.
History
The bulldog may have been mentioned in ancient texts from the time of the Roman Empire, where they wrote about the "widespread" war dogs used in the UK. Anyway, most historians believe that the dog mentioned in these texts is the ancestor of today's bulldog. The breed was mentioned especially in 1631 by an Englishman named Prestwitch Eaton, where he clearly distinguished between a bulldog and a mastiff.
It was believed that the bulldog were originally bred for butchers who used them to subdue the bulls before slaughter. The initial goal of raising this dog is to help butchers control violent and lawless oxen and act as a watchdog during hunting while demonstrating a tough look. Over time, bulldogs developed stockier builds and a more aggressive character as a result of bull-baiting bait. Many dogs died during this period until the sport became illegal in 1835 with the adoption of the Animal Cruelty Act of 1835. The name Bulldog comes from the word "Taurus" because of its use in Bull Bating and resembles a small bull. This race was very popular among the nobility and the royal family.
After being brought to America in the 17th century, they were still accustomed to helping the wild bull by grabbing it by the nose long enough so that the rope could be worn around the neck of the bull. Today, bulldogs are useless to help flatten the bull due to the lack of their nose and shorter resistance. The American Kennel Club officially recognized Bulldog in 1886.
The bulldog has long been a national symbol of England. Today, the only reason this breed becomes aggressive is a clear threat to its owner and family. Predictably calm, loyal and tireless defender, the bulldog has turned from a fierce fighter into a good member of the family.