Bull Terrier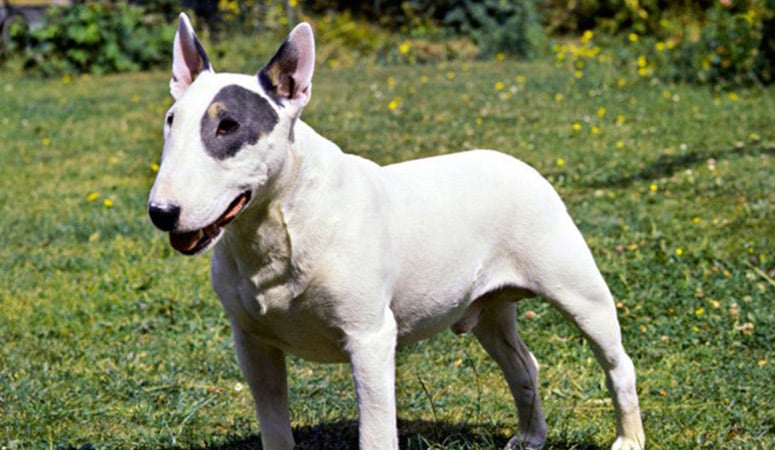 The Bull Terrier is a breed of dog in the terrier family, his unique shape of the egg-like head and robust body makes this breed one of the most recognized in the world. They are friendly, playful, and entertaining, but sometimes are tenacious to push boundaries and bend rules. They are popular as a family pet and consistent training can help them be well-behaved companions.
| | |
| --- | --- |
| Other Names | English Bull Terrier |
| Color | White, brindle, fawn, red, red smut, black, and tricolor (black, red, and white mixture) |
| Height | Males: 20-24 inches. Females: 20-24 inches. |
| Weight | Males: 45-80 pounds. Females: 25-35 pounds. |
| Life Span | 12-13 years |
| Personality | Playful, Charming, Mischievous |
| Exercise | Energetic |
| Origin | |
| | |
| --- | --- |
| Popularity | #61 |
| Groom Needs | Weekly |
| Kids Friendly | Yes with supervision |
| Dog Friendly | No |
| Watch Dog | |
| Family Dog | |
| Litter Size | 4-5 |
Introduction
The Bull Terrier is easily identifiable with its egg-shaped head, muscular body, and rather big bones. A playful and rambunctious dog with remarkable agility, a Bull Terrier brings in joy and laughter and yet can be obstinate on rare occasions. They come in a short, dense coat, the color of which could be either white or any other color, (solid or with white markings).
Grouped under the terrier group by the American Kennel Club, the Bull Terrier is one of America's favorite family dogs and devoted companion. A standard Bull Terrier stands 21-23 inches from paw to shoulder and weighs between 50 and 70 pounds, depending on the specific dog. A Bull Terrier with its confident stride gives the picture of a valiant warrior. They have an average life expectancy of 11-13 years.
History
Bull-baiting was a popular sport in old England in the 1400s up to the 1800s when blood sports were outlawed in Britain. The old English Bulldogs, which are now extinct, were famous participants in the bull-baiting, where the dog was let loose upon a staked bull, with a crowd of spectators chanting and betting their money on the outcome of the fights. Around the early part of the 19th century, bull-baiting and its gory happenings were banned in England, although blood sports lovers continued to hold their shows illegally, in pits and empty dams, this time it was rather dogfighting. In this new and unfamiliar sport, the Bulldog proved powerful but rather slow to engage in such a sport that required agility.
This awoke a need to create a breed that could possess the strength of the Bulldog and the agility and animation of the terrier breeds. This started a generation of bulldog and terrier crosses, which initially resulted in dogs known as the bull and terrier types. It was observed that the emergent breed of a dog combined the doggedness of the Bulldog with the agility of the terriers. As there was no standard at that time, the bull and terriers were mainly bred for performance rather than appearance. This led to further crosses, with subsequent breeds diverging from the original ancestors. This divergence created a distinct breed which was later called the Bull Terrier.
James Hinks was credited with the major work of improving the Bull Terrier breed around the 1860s. He had a penchant for white dogs, hence most Bull Terriers of his time were white, although half a century later, colored varieties emerged. The American Kennel Club registered its first Bull Terrier in 1885.