Brussels Griffon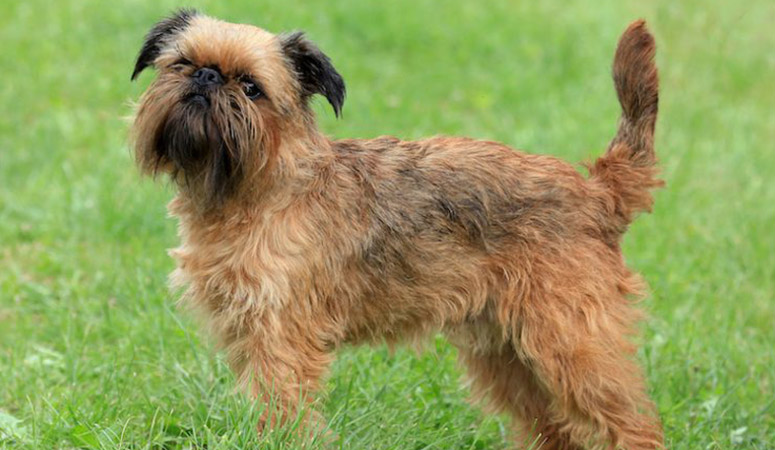 With human-like appearance, the Brussels Griffon has won hearts of people around the world. While included in the Toy Group, the breed has a load of energy, a big heart and a personality larger than life. Alert, sociable, and close to their special human, Griffs will provide years of love and laughter with low threshold for loneliness.
| | |
| --- | --- |
| Other Names | Belgischer Griffon, Belgium Griffon (Griffon Belge) |
| Color | Belge, Black, Black & Tan, Red |
| Height | Males: 7-8 inches. Females: 7-8 inches. |
| Weight | Males: 7-13 pounds. Females: 7-13 pounds. |
| Life Span | 12-15 years |
| Personality | Loyal, Alert, Curious |
| Exercise | Regular Exercise |
| Origin | |
| | |
| --- | --- |
| Popularity | #96 |
| Groom Needs | 2-3 Times a Week Brushing |
| Kids Friendly | Yes with supervision |
| Dog Friendly | Yes with supervision |
| Watch Dog | Yes |
| Family Dog | |
| Litter Size | 1-3 pups |
Introduction
This breed, also known as the Griffon Bruxellois is a breed of toy dog. It got its name from the city from which it originated: Brussels in Belgium. There are actually three different breeds that are linked to the Griffon Bruxellois; they are the Griffon Belge, the Petit Brabancon, and the Griffon Bruxellois itself.
The coat of the Brussels griffon comes in two varieties. There is a wiry or rough coat and the smooth coat and they have a variety of coat colors. Black, black and tan, blue, brown, belge, and red are the known varieties of coat colors of the Brussels griffon. Griffons with short hair require little grooming while those with a rough coat require weekly grooming. This breed of dog is small with a sturdy frame. They have short noses, domed heads, and an under-bite.
The average Brussels griffon weighs 8-10 pounds (4-5 kg) and has a height of 9-11 inches (230-280mm) at the shoulders. The Brussels griffon possesses a strong desire to be with its owner and snuggle. It is also known to have a large heart. They are known to be self-important as they portray such characteristics. They are an emotionally sensitive breed of dogs but are not necessarily aggressive or shy. Because of this particular temperament, they are supposed to be carefully socialized at a young age. They are also known to be interested in, and inquisitive of, their surroundings. They are also friendly with children as long as they are not teased by them. They are impatient and yet playful. They also get along with other animals including cats but because they do not realize their small size, sometimes they tend to dominate larger-sized dogs and get themselves into trouble for that.
The Brussels Griffon has an average life span of 10-15 years. The Brussels griffon has a few relatively inherited health problems but it is recommended that they are checked for congenital defects. Syringomyelia and Chiari-like malformation are some of the most serious congenital defects that affect the breed. Cleft palate is one health problem that is much fatal for the puppies. This is caused when the puppy doesn't receive adequate nourishment from its mother, and finally starvation. This is rare but the puppy can survive, depending on the cleft size, and then surgery can be done to close the hole when it is older.
Living with Brussels Griffon
History
The Brussels griffon descends from a Smousje, a small terrier-like dog with a rough coat. In the late 19th century, this breed of dogs grew in popularity among both the commons and noblemen of Belgium. In 1883, the first Brussels griffon was registered in the first volume of Belgium's Kennel Club Studbook. The breed was exported to England in 1897 and, in 1945, to Brussels Griffon Club in the United States.