Brittany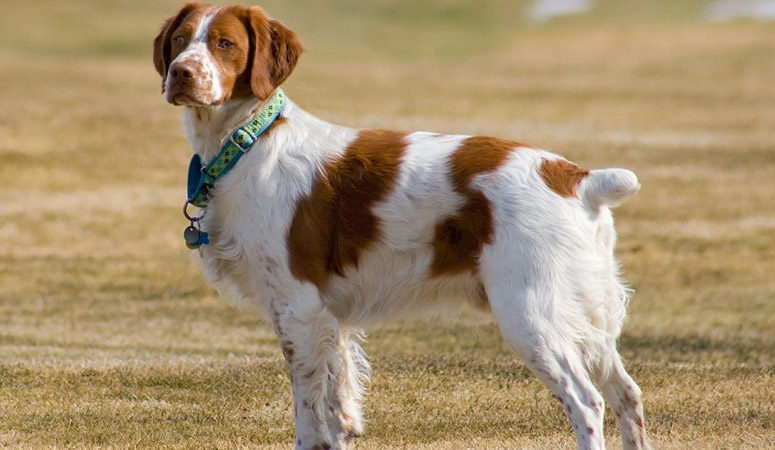 Once bred as an assistance of hunters, Brittanys are longlasting hunting companions as they are perfect for stamina and have an excellent nose for birds. Their alertness makes them assistant hunters, while their gentleness makes them favored by owners. They can accompany their favorite humans for a whole day without feeling boring. This breed can show intelligence, vigour, and alertness to more people as a quick learner.
| | |
| --- | --- |
| Other Names | Brittany Spaniel, Brittany Wiegref, Epagneul Breton, French Brittany |
| Color | Liver & White, Orange & White, Piebald |
| Height | Males: 18-21 inches. Females: 17-20 inches. |
| Weight | Males: 30-45 pounds. Females: 30-45 pounds. |
| Life Span | 12-14 years |
| Personality | Bright, Fun-Loving, Upbeat |
| Exercise | Needs Lots of Activity |
| Origin | |
| | |
| --- | --- |
| Popularity | #26 |
| Groom Needs | 2-3 Times a Week |
| Kids Friendly | Yes with supervision |
| Dog Friendly | Yes with supervision |
| Watch Dog | |
| Family Dog | Yes |
| Litter Size | 5-8 |
Introduction
The Brittany is an athletic, sturdy, and exuberant dog breed that is cherished especially for its hunting abilities. Their short tails and high-set ears give them a characteristically sporty and portable appearance, especially as you watch them scuttle about their business. The beautiful, flowing coat of a Brittany comes in a finite variety of color patterns, including orange, liver, and black, often with white markings. There are tri-colored varieties too, mostly a combination of orange, black, and liver roan.
Although recognized as small, sporting dogs, Brittanys usually stand to a quite impressive height of about 18-21 inches from paw to shoulder, regardless of the sex of the dog. At 35-40 pound-weight the Brittanys are light enough to accommodate their agility and energetic behavior. Also important is the fact that Brittanys make for excellent gun-dogs, owing to their unique features described above. They are rambunctious, active dogs, and have an average life expectancy of 11-14 years.
History
Originally called Brittany Spaniels, the dog breed has more in common with pointer and retriever breeds than it does with spaniels. However, like most spaniels, the Brittanys have an origin that can be traced back to the famous bird dogs of ancient Spain (called the Epagneuls). The history of the bird dogs, themselves, goes far back into the 1600s, while their Brittany descendants probably erupted around the early 17th century.
At any rate, the Brittany is widely believed to have originated and developed in France. The name itself was borrowed from the name of the French province where it likely developed. The Brittany Spaniels are probably hybrids descended from cross-breeding the old spaniels of France with some varieties of bob-tailed English Setters and retrievers which had occurred in the 19th century.
An orange- and white-colored Brittany was the first to be registered in 1907 when the breed was first recognized as a distinct breed in France. The following year, a Brittany club was formed in Loudéac and a standard was set for its breeding, which permitted the black nose and black coat varieties. However, on the arrival of the breed into the United States in the 1930s, its appearance was greeted with certain modifications to the standard for American Brittanys which forbade the black nose and black-coated varieties. The "Spaniel" in the name was dropped in 1982. Ever since the Brittany has grown in popularity and is ranked 26th most popular dog breed by the American Kennel Club.