Briard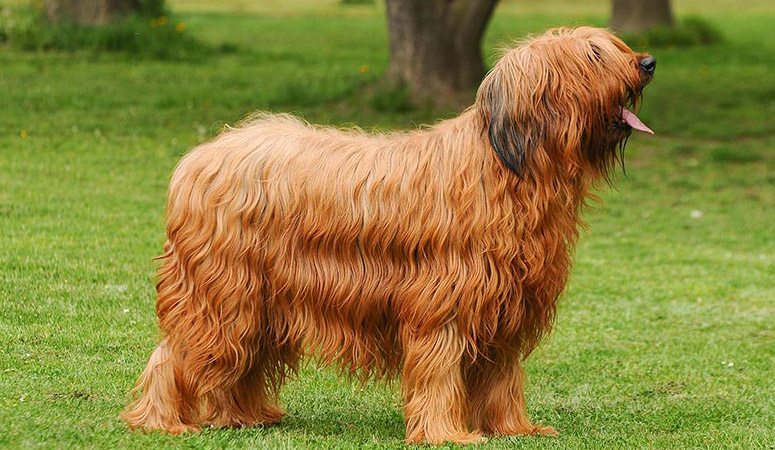 Here comes a shaggy dog, Briard looks funny and confident wherever he goes. However, Briard's personality is unlike his hippie appearance, more loyal and lively. He is definitely an outdoor fanatic instead of a couch potato. Active owner can have a good companion to exercise together.
| | |
| --- | --- |
| Other Names | Berger de Brie, Brie Shepherd |
| Color | Uniform black, fawn, grey or blue. |
| Height | Males: 23-27 inches. Females: 22-26 inches. |
| Weight | Males: 70-100 pounds. Females: 65-95 pounds. |
| Life Span | 12 years |
| Personality | Confident, Smart, Faithful |
| Exercise | Regular Exercise |
| Origin | |
| | |
| --- | --- |
| Popularity | #135 |
| Groom Needs | Daily Brushing/Infrequent Shedding |
| Kids Friendly | Yes with supervision |
| Dog Friendly | Yes with supervision |
| Watch Dog | Yes |
| Family Dog | |
| Litter Size | 5-8 puppies |
Introduction
The Briards are burly and stocky bundles of dog joy, sufficiently clothed in a thick coat of fur. The fur is abundant in all parts of the body, though it doesn't mask the facial features. The coat of fur is impressively groomed naturally to have a parting around the middle due to its flat and wavy nature. Like most herd dogs, the Briard is highly intelligent, trainable, and alert, displaying a good measure of strength as is required of it. They have a double coat, the topcoat being hard, coarse, and dry. The usual color is gray, tawny, black, or blue.
A full-grown male of this breed normally stands 23-27 inches at the shoulder, where a similar female measures around 22-26 inches, closely behind it. Briards tip the weighing scales in the range of 60-100 pounds. They make loyal and confident members of the Herding Group. On average, Briards have a lifespan of 10-13 years.
History
The Briard or Chien Berger de Brie (as they are known in their home town) were sheepherders of France from the time of Charlemagne. The breed name was derived from the name of a region in France, Brie, which was popular for dairy products and cheese. French breeders of old had a penchant for breeding utilitarian dogs which served several purposes, thus it wasn't odd that the Briard doubled as a guard dog for the flock at night. The Briard became popular when it featured in a Paris dog show in 1863, alongside breeds such as the Beauceron and Barbet which are believed to have been crossed with the Briard, somehow. During the First World War, the Briard proved its mettle as a tough and reliable breed, helping to pull supplies, find wounded soldiers, and keep sentry. They were even declared as the French war dogs, at the time.
There are reports that the Briard existed as far back as the 8th century, although many historians point to the 14th century as a most likely period for their emergence. A dog from the Aubry de Montdidier, who is acclaimed to have executed revenge for the murder of its master in the 1300s, is believed to be the ancestor of the Briard. However, it wasn't until 1809 that the breed came to the name "Briard". The first breed standard was written in 1897 and was later updated in 1909. Notable historical figures have been linked with ownership of Briards in their time, including Thomas Jefferson, Napoleon, and Lafayette. The American Kennel Club recognized the breed in 1928, though it is yet to gain much prominence in America.