Boykin Spaniel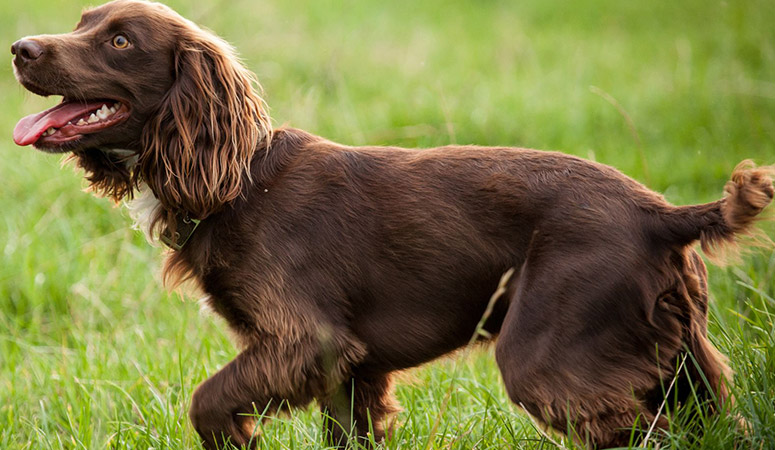 Originated in the United States and developed in South Carolina, Boykin Spaniel is medium-sized flushing and retrieving dog with a rich brown coat. They are noted for their hunting skills, also, they can be good companions to families as well as hunters because of their intelligence and friendliness.
| | |
| --- | --- |
| Other Names | Boykin, Swamp Poodle, LBD (Little Brown Dog) |
| Color | Liver |
| Height | Males: 15-18 inches. Females: 14-17 inches. |
| Weight | Males: 30-40 pounds. Females: 25-35 pounds. |
| Life Span | 10-15 years |
| Personality | Friendly, Eager, Lovable |
| Exercise | Regular Exercise |
| Origin | |
| | |
| --- | --- |
| Popularity | #89 |
| Groom Needs | 2-3 Times a Week |
| Kids Friendly | Yes |
| Dog Friendly | Yes |
| Watch Dog | |
| Family Dog | Yes |
| Litter Size | 5-7 |
Introduction
Ranked 100th most popular dog breed by the American Kennel Club is the friendly, affectionate, and exuberant Boykin Spaniel. It was developed into a flushing dog, especially for waterfowls and turkeys, and has not only lived up to that reputation but is also admired, more recently, as an excellent house dog. They are sheathed in a coat of medium length which is often straight, although slightly curly. Solid, rich liver or dark chocolate are the main color varieties of this sporting dog.
Boykin Spaniels are medium-sized dogs, being slightly larger than the English Cocker Spaniels. A full-grown male is usually 15-19 inches tall, measured at the shoulder, while a similar female measures around 14-17 inches. The male type runs heavier than the female; tipping the scales at 30-40 pounds, where the female manages 23-36 pounds. Boykin Spaniels have an average life expectancy of 10-14 years.
Living with Boykin Spaniel
History
The Boykin Spaniel is one of the all-American bred dogs with a history that started in the 20th century. Stories are told of how a banker of South Carolina, Alexander L. white found a stray spaniel dog in front of a churchyard where he attended services at Spartanburg, South Carolina. White liked the dog, so he took it home, and named it Dumpy. When he went hunting with the dog, alongside his own retriever dogs, he found that Dumpy had a natural instinct for hunting waterfowls and ducks, even more than his own dogs. White responded to this discovery by sending the dog out to be trained and worked upon by a friend of his, Lemuel Whitaker "Boykin", who was a fellow breeder and hunter.
This dog, which later formed the foundation of the Boykin Spaniel was crossed several times with other spaniels and retrievers, including the Cocker Spaniel, Chesapeake Bay Retriever, American Water Spaniel, Springer Spaniel, and various pointing breeds. Whit took into account the size of the dog, as such a retriever dog for hunting was supposed to be small enough to enter the little boats used for hunting in the swamps of Campden, South Carolina, where it was developed. The Boykin Spaniel, hence, emerged with the remarkable features which caught the attention of the neighborhood and its visitors, and soon the breed began to grow in popularity.
Boykin Spaniel Society (BSS) was founded by the family for which the breed was named, in 1979. Although the BSS closed its Studbook in 1980, the United Kennel Club still recognized the Boykin Spaniel, later in 1985. The breed became fully recognized by the American Kennel Club in 2009.