Boxer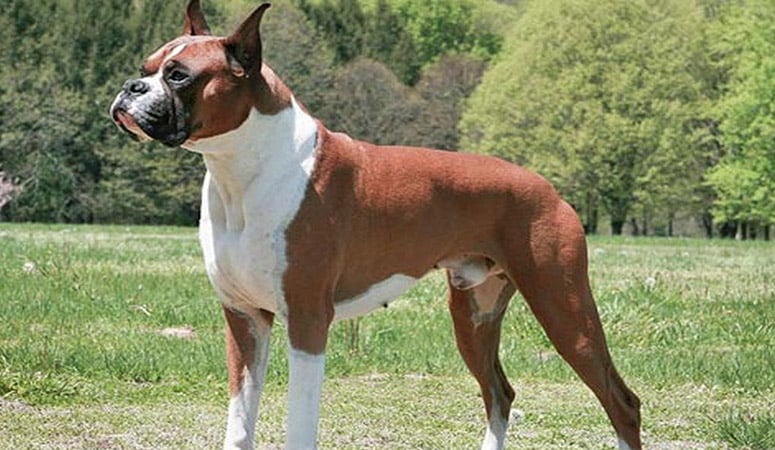 Strong, energetic, and with a muscular build, the Boxer is a dog who combines stylish elegance, strength, and agility. His head is distinctive, with a broad, blunt muzzle and alert expression, and this breed can suit to serve as a guard dog, as well as a great family companion.
| | |
| --- | --- |
| Other Names | Deutscher Boxer, German Boxer |
| Color | Brindle, Fawn, White |
| Height | Males: 22-25 inches. Females: 21-24 inches. |
| Weight | Males: 66-70 pounds. Females: 55-62 pounds. |
| Life Span | 10-12 years |
| Personality | Bright, Fun-Loving, Active |
| Exercise | Energetic |
| Origin | |
| | |
| --- | --- |
| Popularity | #14 |
| Groom Needs | Weekly |
| Kids Friendly | Yes |
| Dog Friendly | Yes with supervision |
| Watch Dog | Yes |
| Family Dog | Yes |
| Litter Size | 6-8 |
Introduction
If you're looking for an active, playful dog capable of pulling silly pranks once in a while and yet bold and fearless, you may not have encountered a Boxer. They go with a close-fitting coat of short, smooth hair. The coat is usually marked with white, with wider coverage of fawn or brindle in the main. They are a unique breed of work-dogs bred from older generations of bulldogs.
With powerful jaws, a square muzzle, and an underbite, the standard Boxer appears vicious and intent. Boxers have a heavy build to match up with their features. A well-fed male would likely weigh somewhere around 70 or 75 pounds, reaching a height of 22-25 inches at the shoulder, while a female breed runs smaller by a few points.
A Boxer can be as cool as a cucumber, fun-loving, and all when it's at ease with you. On the flip side, the same Boxer can be a terrible nightmare when it smells mischief in the air. Therefore, Boxers qualify as watchdogs and guard dogs. Also, their protective instincts have endeared them as a dandy children companion. It's preferable that Boxers, as puppies, are exposed to a lot of people, animals, and the outside world. Boxers grow really old to an average of about 12 years of age before they eventually die.
History
German in origin, the Boxer belongs to the Molosser dog group — a group consisting of Mastiffs and Bulldogs which are believed to have descended from the ancient Molossus breed of historic Assyria. The history of modern-day Boxer dogs can be traced back to the 19th century. The Boxer has a close resemblance to Bulldogs and it is generally accepted that they were descendants of a cross between Bulldogs from Great Britain and Bullenbeissers of Mastiff descent.
The Bullenbeissers were hunting dogs that preyed on wild boars and deer. As time advanced, the demand for smaller and faster breeds grew and soon a smaller breed was developed in Belgium. This was the Brabanter Bullenbeisser from which Boxer dogs had most likely descended.
Deutscher Boxer Club, the first Boxer Club was founded in 1895 following deliberate efforts to improve the breed, which commenced in 1894. In 1896, the Boxer debuted in a show ring in Munich, Germany. However, it wasn't until the beginning of the 20th Century that the Boxer dog was recognized in the U.S, the American Kennel Club (AKC) registering the first Boxer dog in 1904.