Boston Terrier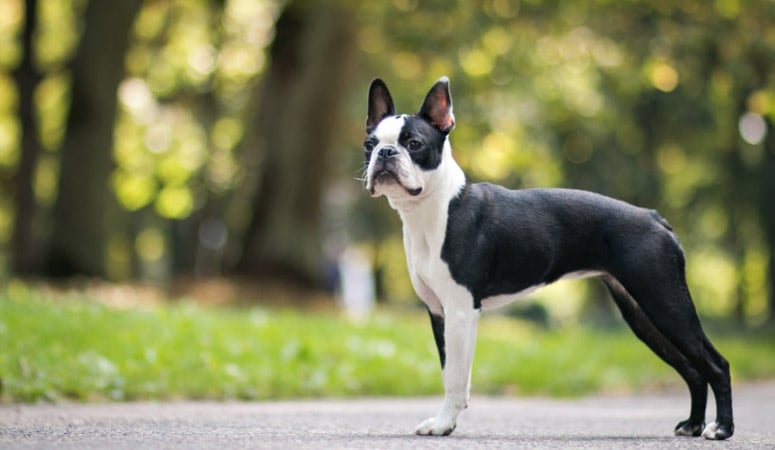 Intelligent, enthusiastic and friendly, with a smooth coat, short head, and big, round eyes, the Boston Terriers have been popular since a century ago, and they are called "The American Gentleman", which is not only a reference of their polite nature but also a sign that makes them look like they are wearing a tuxedo.
| | |
| --- | --- |
| Other Names | Boston Bulldog |
| Color | Black & White, Black Brindle & White, Brindle & White, Seal & White, Seal Brindle & White |
| Height | Males: 0-25 inches. Females: 0-25 inches. |
| Weight | Males: 15-17 pounds. Females: 15-17 pounds. |
| Life Span | 11-13 years |
| Personality | Friendly, Bright, Amusing |
| Exercise | Regular Exercise |
| Origin | |
| | |
| --- | --- |
| Popularity | #21 |
| Groom Needs | Weekly |
| Kids Friendly | Yes |
| Dog Friendly | Yes with supervision |
| Watch Dog | |
| Family Dog | Yes |
| Litter Size | 1-6 |
Introduction
A Boston Terrier is small but sturdy, quick, and lively without being aggressive. Nonetheless, a Boston Terrier is no coward, he occasionally rises up to a fight when challenged in his territory. A stout nose, which may occasionally be a cause of respiratory problems, rests in front of a square head, yet they were once nicknamed "round-heads". Boston Terrier is a funny little dog with large round eyes. The standard coat color is usually white and brindle or black. Where Boston Terriers go there's lots of joy to follow.
A Boston Terrier weighs somewhere around 11 or 25 pounds, supported by a sturdy frame which stands to a height of 15-17 inches. Short-tailed and compact Boston Terriers have an average lifespan of 10-13 years.
Living with Boston Terrier
History
The Boston Terrier is the first recognized American-bred dog. A native of Boston, Massachusetts, the breed was the first non-sporting American dog breed to develop. The Boston Terrier was purportedly bred from ancestors which consisted of a chain of Bulldogs, Terriers, and bull-and-terrier type dogs. The beginning of this lineage of dogs dates back to the 1870s when an American Breeder residing in Boston decided to breed an All-American bred Terrier. This man, Robert C. Hooper by name, was said to have purchased a bull and terrier type of dog from one Edward Burnett. The dog was later bred by Hooper, cross-bred with Bulldogs and Terrier breeds, although some accounts add that a French Terrier went into its breeding to temper the aggressive behavior of the hybrid formed.
The first Boston Terrier emerged and was known as Hooper's Judge. Soon, the breed grew into prominence and its admirers decided to form a club for it. So, in 1889, the American Bull Terrier Club was founded, shortly after which its name changed to the Boston Terrier Club. It was in 1893 that the dog was registered into the American Kennel Club.
It is accepted that the Hooper's Judge was the direct ancestor of subsequent Boston Terriers, who progressively shed off the inclination to be aggressive and fight people or other animals. In this, the Boston Terrier was transformed from the image of its bull-and-terrier type ancestor (who were notorious for dogfighting sports and bull-baiting), hence affording it the name 'American Gentleman'.
The Boston Terrier has developed to become an iconic dog in the US, even ranked 21st most popular dog by the American Kennel Club. It is the official state dog of Massachusetts.