Border Collie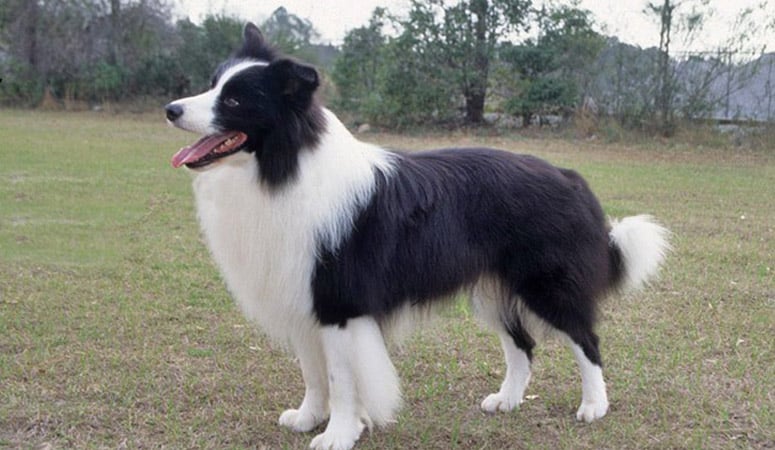 The Border Collie is a working and herding dog breed, with highly intelligence, stamina, boundless energy, which could frequently compete with great success in sheepdog trials and dog sports. They are still used to herd sheep on farms or kept as pets around the world today.
| | |
| --- | --- |
| Other Names | |
| Color | Black, Blue, Brindle, Gray, Red |
| Height | Males: 19-22 inches. Females: 18-21 inches. |
| Weight | Males: 30-45 pounds. Females: 27-42 pounds. |
| Life Span | 12-15 years |
| Personality | Affectionate, Smart, Energetic |
| Exercise | Needs Lots of Activity |
| Origin | |
| | |
| --- | --- |
| Popularity | #33 |
| Groom Needs | 2-3 Times a Week |
| Kids Friendly | No |
| Dog Friendly | Yes with supervision |
| Watch Dog | |
| Family Dog | |
| Litter Size | 4-8 |
Introduction
There's one special trait that seems to come to mind the minute you see a Border Collie and that is 'smart'. Always on the alert, ready for action, this gorgeous little dog is one ball of energy and vitality. He is super talented and hardworking, impressing you all the way with his intelligence and eagerness to please. In fact, they're the smartest dog breed in the world according to researcher Stanley Coren. Dog experts say you could call them the 'intelligent workaholics'. Their instinct to nip and nudge and bark with all their energy can't be trained out of them and a brisk walk or a game of fetch is not going to be enough for these dogs. It is these traits of endless endurability, and balls of energy that make them superior working dogs, but can, unfortunately, make them unsuitable as pets. Pet owners shouldn't dampen this dog's spirit by trying to make him fit in with a laidback lifestyle. Napping and lying around doing nothing is kind of a waste of time for these self-respecting sheepdogs. The color most associated with the border collie is black and white, but he comes in some amazing colors such as tricolor, blue & white, blue merle, slate merle, blue tri, chocolate & white, chocolate tricolor, lilac, sable, red, with rough or smooth coats and anything in-between. He stands around 22 inches high at the shoulders and weighs in at around 45 pounds.
Living with Border Collie
History
Did you know that their name comes from their home region? The name Border Collie was first developed in Scotland, thriving in the regions and borders of England and Scotland. It's a Scottish word, Collie – it describes sheepdogs. Because they flourished so in the border region, they were nicknamed the Border Collie.
They were bred also to herd sheep which they excel at and they have become famous for using their eyes, staring intensely at the flock to bring them to order.
The earliest recorded sheepdog trials took place in Bala in Wales in 1873. The crowd watched in awe as the Border Collie showed its skills by herding sheep into the pen simply guided by hand signals and whistles from its owner.
Another famous historian, Queen Victoria, loved them; she loved dogs and had many breeds, period. But she became an active Border Collie enthusiast in the 1860s.
A famous Scottish poet, Robert Burns, owned a border collie called Luath. He loved this dog so much that Luath inspired him to write "The Twa Dogs" – there are numerous statues around depicting Robert Burns with Luath right there by his side.