Bloodhound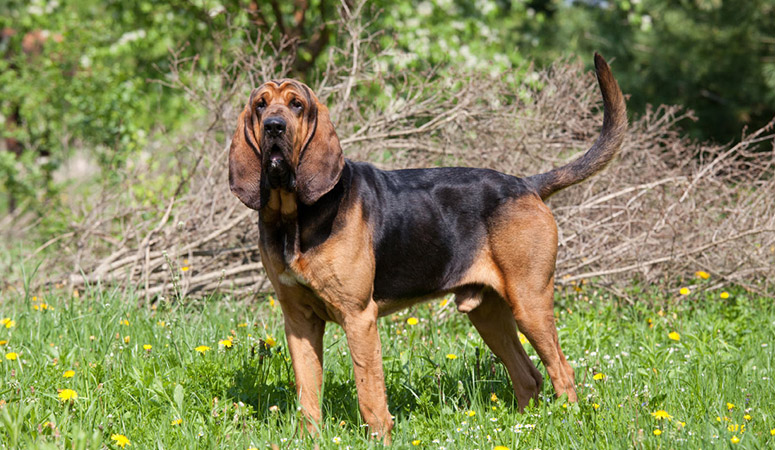 The Bloodhound was originated in medieval France to trail deer and boar. This breed has a keen sense of smell and can follow a scent even days later. Bloodhounds are tough, active, and intelligent, combined with their tracking instinct, they are often used by police and law enforcement to take part in the search and rescue activities, such as tracking lost people or escaped prisoners.
| | |
| --- | --- |
| Other Names | Chien De Saint Hubert, Chien de Saint-Hubert, St. Hubert Hound, St. Hubert's Hound, St. Hubert's Hound |
| Color | Black & Tan, Liver & Tan, Red |
| Height | Males: 25-27 inches. Females: 23-25 inches. |
| Weight | Males: 90-119 pounds. Females: 79-106 pounds. |
| Life Span | 10-12 years |
| Personality | Friendly, Independent, Inquisitive |
| Exercise | Regular Exercise |
| Origin | |
| | |
| --- | --- |
| Popularity | #51 |
| Groom Needs | Weekly |
| Kids Friendly | Yes with supervision |
| Dog Friendly | Yes with supervision |
| Watch Dog | |
| Family Dog | Yes |
| Litter Size | 8-10 |
Introduction
A wrinkled face and dropping ears almost completely describe a modern-day Bloodhound. With a highly sensitive smell sense and powerful limbs, a Bloodhound was born ready to travel the miles following the trail of crime evidence or a wild game. Its short coat may come in a blend of black and tan, liver and tan, or red color.
As medium- to large-sized dogs, Bloodhounds pack the muscle mass to assist in their official duties. A standard male is likely to weigh around 95-115 pounds, standing at an impressive 26 or 27-inch height. A female Bloodhound is similarly built, albeit smaller — 23-25 inches height from paw to shoulder, and a weight of 80-105 pounds.
Bloodhounds can be stubborn occasionally, hence a strong leash would be a great idea on outings with this breed. They have an average life expectancy of 9-12 years.
History
The Bloodhound has a twisted French history, although it is believed to have been developed in England. Before the emergence of this breed of dogs, there was a hound breed that existed in the Saint-Hubert Monastery in Belgium. This hound was named Saint Hubert or Chien de Saint Hubert and is widely acclaimed the ancestors of the Bloodhound and various other dog breeds. France is the ancestral home of most hounds and is accepted as the original place of Saint Hubert.
In the Middle Ages, Saint Huberts were employed in hunting, especially in trailing and tracking animals such as the boar, deer, and the like. For centuries, the hounds were the popular tracking and hunting dogs in France, since the 7th century C.E. By the time the Napoleonic wars had receded, and wild hunting had begun to knock out, the Saint Hubert's had lost the most part of their popularity, and had dropped in demand.
The pure-bred Saint Huberts must have been imported into England around the 14 century or thereabouts. There are bits of evidence that the British nobility and royalty right up to the Victorian era had kept a tradition of breeding Bloodhounds, especially for their masterful skills in hunting and tracking the scent of a person or an animal. This was later believed to have given rise to the name of the breed as they were reputed to have a keen sense of blood smell.
Around, early 19th century, Bloodhounds developed in England were in high demand as the modern Saint Huberts were found to have diverged too widely from the original characteristics of the dog due to excessive crossbreeding. The Bloodhounds were regarded to possess characteristics that were closest to the ancestors of the breed. The rise of this dog to fame has been slow and tortuous, now they can be found in the highest population, of any part of the world, in America.