Black Russian Terrier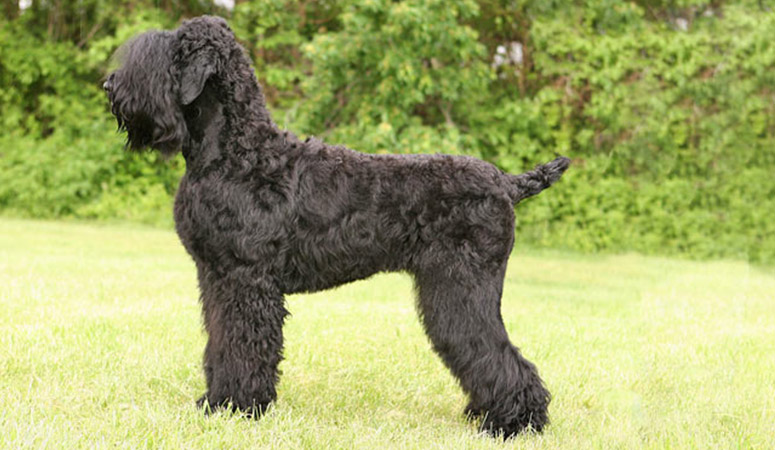 The Black Russian Terrier is strong and agile to traverse rocky terrain or overtake an adversary with a large boned and well muscle. Reliable and intelligent, this breed has strong protective instincts, and courage is also a must. Bred to guard and protect, these striking black dogs are devoted to their families and protective of children today.
| | |
| --- | --- |
| Other Names | Black Terrier, Chornyi, Russian Bear Schnauzer, Russian Black Terrier, TChiorny Terrier, Terrier Noir Russe |
| Color | Black, Salt & Pepper |
| Height | Males: 26-31 inches. Females: 25-29 inches. |
| Weight | Males: 80-143 pounds. Females: 80-143 pounds. |
| Life Span | 10-12 years |
| Personality | Intelligent, Calm, Powerful |
| Exercise | Needs Lots of Activities |
| Origin | |
| | |
| --- | --- |
| Popularity | #114 |
| Groom Needs | Daily Brushing |
| Kids Friendly | Yes with supervision |
| Dog Friendly | Yes with supervision |
| Watch Dog | Yes |
| Family Dog | |
| Litter Size | 6-12 puppies |
Black Russian Terrier Video
Introduction
The first thing you realize about the Black Russian Terrier is that he is bold and big – but did you know that actually, he's not really a terrier at all. This so-called terrier is in actual fact classified as a working dog. He's bright, smart, and with plenty of brawn. They reach a height of around 30 inches at the shoulders and weigh in at around 150 pounds. They have double coat of medium length, always black. It's no surprise that these dogs are used in both military and police. Nevertheless, they make faithful and loving companions, needing to feel connected to their home and owners. If you are a new dog owner, the size and smartness of this dog might overpower you because he does require firm and consistent leadership, with plenty of exercise, attention, and a happy home. They can take up to 3 years to mature. They will definitely sound the alarm when an intruder is around. He needs a daily walk of at least half an hour, as well as taking every opportunity to keep him mentally engaged and stimulated. His coat is described as tousled, curly, or wiry. It needs daily brushing, as well as clipping to keep him in good condition; and failing to maintain coat will make him get into tangles and matting.
Living with Black Russian Terrier
History
This dog was born in the Soviet Army's Red Star kennel.
It was immediately before and during the Cold War era that Soviet scientists were given the job of developing an 'ideal' working dog – they wanted to use this dog to patrol their borders, chase down intruders, and protect and guard work camps, etc. This dog had to have endurance and ability and not succumb to the icy cold weather as well. 17 breeds are said to have been used to arrive at a dog called the Black Russian Terrier.
When the military camps closed, etc. the Red Army sold off the dogs to civilians, so these dogs entered the public sector in 1957. A while later, in 1958, the Soviet Army published the first breed standard for this amazing dog but it was only in 1981 that the Soviet Ministry of Agriculture declared the Black Russian Terrier as a breed. Private breeders started aiming to enhance the appearance of the dogs.
It was also around the end of the Cold War that the first Black Russian Terriers were imported to the United States, gaining recognition at the AKC in 2004.