Bichon Frise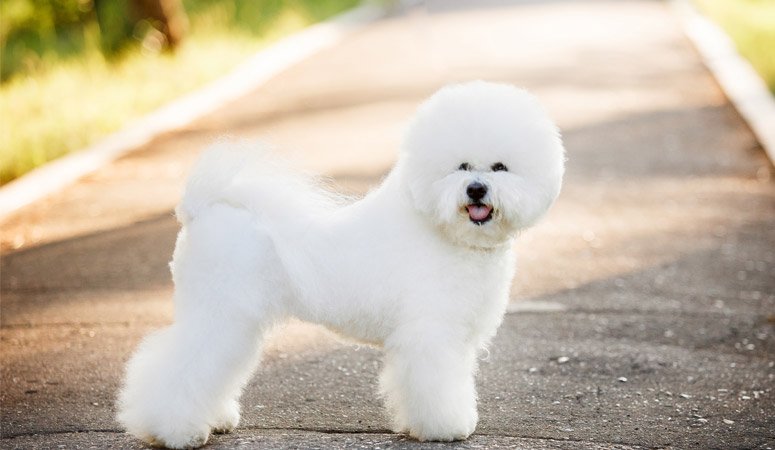 The Bichon Frise is a small dog breed with a fluffy white coat, who looks like a child's toy. They have a thick coat in loose and curly hair, and they are cheerful, intelligent, and like to show off. Their cute looks and friendly personality make them become popular family companions and pets in the world.
| | |
| --- | --- |
| Other Names | Bichon, Bichon a Poil Frise, Bichon Tenerife, Tenerife |
| Color | White, White & Apricot, White & Buff, White & Cream |
| Height | Males: 9-12 inches. Females: 9-12 inches. |
| Weight | Males: 7-12 pounds. Females: 7-12 pounds. |
| Life Span | 14-15 years |
| Personality | Playful, Curious, Peppy |
| Exercise | Regular Exercise |
| Origin | |
| | |
| --- | --- |
| Popularity | #43 |
| Groom Needs | Specialty/Professional |
| Kids Friendly | Yes |
| Dog Friendly | Yes |
| Watch Dog | |
| Family Dog | Yes |
| Litter Size | 4-6 |
Introduction
One just straight away thinks "cute!" when looking at the Bichon Frise. Only 11.5 inches at the shoulders and weighing in at around 18 pounds, this companion doggy is highly affectionate. His job used to be to entertain people in the circus and he seems to still do that pretty well in these days. He is just a lapful of charm with his cotton wool white hair, loving to be the center of attention. His cousins are the Havanese, Maltese, and Coton de Tulear. Because they are so cute and cuddly , that does not mean they don't need plenty of attention, exercise, and training. The white cloud of hair requires daily grooming. It is affectionate with children but not if the kids are rambunctious and rough with a small Bichon. They can be easily injured if play gets too rough; then they get snappish and frightened. The Bichon Frise needs a great deal of companionship more than other breeds and does not like being left alone for more than a few hours. If they feel unhappy and lonely they will bark a lot and chew destructively on things.
History
This little dog has been around for at least 2000 years, but of course, not always known by the name of Bichon.
There have been little white dogs recorded that were found throughout the Mediterranean area, making their way throughout the world. They became very popular and flourished because of their small size and charming, cute ways.
During the Renaissance, they were to be found at the royal court of France, often seen in portraits as companions to fine ladies.
When the 19th century came about, the Bichons had lost a bit of their popularity and they accompanied organ grinders, performing in the streets to the amusement of those who passed by. Some became popular circus dogs. Some of them held important jobs like leading people who were blind, and others had the reputation of being excellent companion dogs.
It was the French breeders who took them in hand in the early 20th century, writing a breeding standard for them, and giving them a new name: Bichon Frise – it means "curly coat."
Then in 1956, a French family moved to Michigan, bringing their little Bichons with them – that started the breed in the USA. The Bichon Frise Club of America was formed about 10 years later, well in 1964. Then the American Kennel Club recognized the breed in 1973. It's a popular dog, ranking around 37th amongst all the breeds registered by the AKC, still continuing to be popular and a much-loved dog.