Berger Picard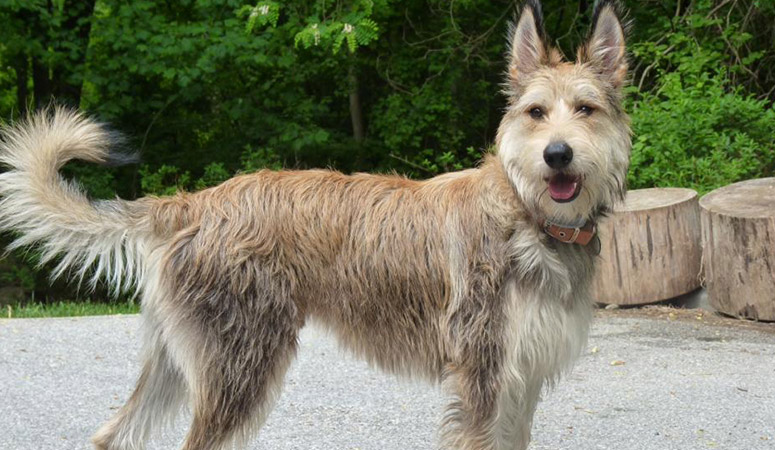 Smart as the Bergers are, novice and unexpericed owners can choose to raise them. Active owners can be suitable for the Bergers' playful personality. Swimming, running, fetch games are favored by them. Owners can take them out for some exercise, adding interaction.
| | |
| --- | --- |
| Other Names | Picard, Berger de Picardie, Picardy Shepherd, Picardy Sheepdog |
| Color | fawn or brindle |
| Height | Males: 23.5-25.5 inches. Females: 21.5-23.5 inches. |
| Weight | Males: 50-70 pounds. Females: 45-65 pounds. |
| Life Span | 12-13 years |
| Personality | Loyal, Good-Natured, Observant |
| Exercise | Needs Lots of Activity |
| Origin | |
| | |
| --- | --- |
| Popularity | #146 |
| Groom Needs | Occasional Bath/Brush and Seasonal Shedding |
| Kids Friendly | Yes with supervision |
| Dog Friendly | Yes with supervision |
| Watch Dog | |
| Family Dog | |
| Litter Size | 2–10 pups |
Introduction
The Berger Picard is a medium-sized dog, well-muscled, rugged, and with plenty of energy. With a harsh, crisp kind of coat, around 2 inches all over his body, the coat needs brushing about twice a month, and only during the shedding season, but fur doesn't need washing or trimming. His coat comes in grey, black-grey, red-grey, blue-grey, and light, or dark fawn. A small white patch would be allowed on his feet if he were in the show ring. This dog needs an owner who can always be relied on to give him walks and not be ever be separated from the family. He needs an owner who is involved with him and if not, he won't be willing to learn and will even experience behavioral problems. He is very sensitive to a harsh voice and he needs patience, calmness, and a firm, consistent, confident owner with clear rules that are abided by. Sometimes this dog can bark excessively and he needs proper communication that it is unwanted behavior. Making a good watchdog, he would rather be inside with you than being alone outside. He stands about 26 inches at the shoulders and weighs around 70 pounds. Pleased to wait for you to go out and play with him, he makes a wonderful jogging companion.
Living with Berger Picard
History
The Berger Picard originates from France. This is probably the oldest of the French shepherd dogs. He arrived in Picardy and the Pas de Calais with the Celts in AD 800. 'Berger' in French means shepherd.
Although the Berger Picard made an appearance at the first French dog show in 1863, the breed's rustic appearance did not lead to popularity as a show dog.
Some have claimed that the Picards were used once to smuggle matches and tobacco over the Belgian border. The dog's back would be shaved and the goods would be wrapped in a goatskin pouch that looked like the dog's hair.
Later on, the two World Wars nearly caused this dog to be extinct – now he is considered a rare breed.
By the time 1970 came around, there was the occasional Picard being brought to America.
In 2002, these dogs had a fabulous break – some Hollywood producers cast this dog breed in the starring role of the movie Because of Winn Dixie. Five Berger Picards were imported from France, and three of them (Scott, Laiko, and Tasha) performed in the movie. The American public was introduced to the breed when the movie debuted in 2005.
The Berger de Picard officially recognized by the AKC in 2016.