Belgian Sheepdog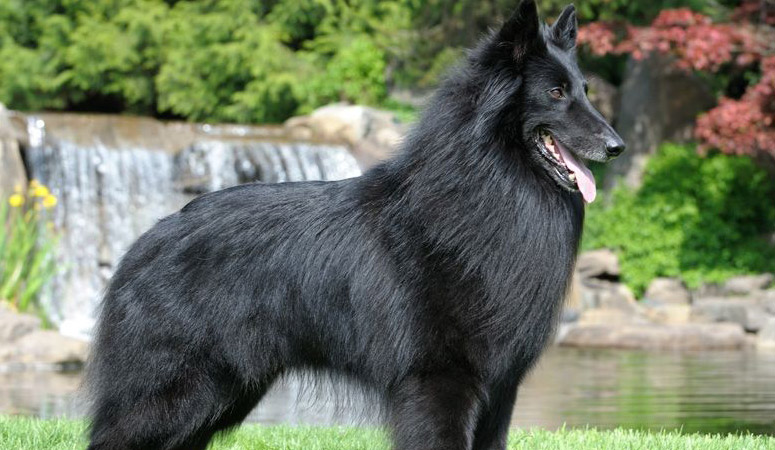 The medium-sized Belgian Sheepdog is a herding dog breed that originated in Belgium where these dogs were used to herd sheep, they have an extremely dense coat that is long, well-fitting, and straight. And today they are affectionate companions and steadfast protectors of family and property.
| | |
| --- | --- |
| Other Names | Belgian Shepherd, Chien de Berger Belge |
| Color | Black, Brindle, Cream, Fawn |
| Height | Males: 23-27 inches. Females: 21-25 inches. |
| Weight | Males: 55-66 pounds. Females: 44-55 pounds. |
| Life Span | 12-14 years |
| Personality | Bright, Watchful, Serious-Minded |
| Exercise | Energetic |
| Origin | |
| | |
| --- | --- |
| Popularity | #126 |
| Groom Needs | 2-3 Times a Week |
| Kids Friendly | Yes with supervision |
| Dog Friendly | Yes with supervision |
| Watch Dog | |
| Family Dog | |
| Litter Size | 6-10 |
Introduction
They come in long-, short- or rough-coated varieties. Belgian Sheepdogs are a cocktail of elegance and strength, mingled with endurance and passion for delivery. They are workaholics by nature and yet loyal to training. A dog with a square build, spread into four varieties or perhaps four breeds is the Belgian Sheepdog. The color of the coat depends on the variety, the Laekenois is usually fawn-colored with white markings. The Malinois come in brown to tan or mahogany, with tinges of black, just like the Tervuren. The Groenendael (classified by the AKC as the main Belgian Sheepdog) has solid black coat colors, with white markings sometimes.
The watchful and friendly Belgian Sheepdog is a medium- to large-sized dog, and as such a standard male should measure between 24 and 26 inches tall at the shoulder and weigh 55-75 pounds. A similar female stands 22-24 inches at the shoulder and weighs around 45-65 pounds. They have an average life expectancy of 11-14 years.
Living with Belgian Sheepdog
History
Livestock products such as milk and cheese were the forte of Belgium in the 1800s. As there was a large community of livestock to cater to, it behooved the Belgian breeder to seek out ways to herd and control this livestock, especially the cattle. This primarily involved the Belgian Sheepdogs, which had a wide variety from Belgium alone. Some historians claim that there were once eight different varieties of the Belgian Sheepdog before the 1890s when they were first classified into four distinct varieties on the bases of coat color and texture. The predominant varieties still exist to date and are recognized by some kennel clubs as separate breeds.
Kennel clubs in countries such as South Africa, New Zealand, UK, Canada, Australia, and indigenous Belgium, recognize the Belgian Sheepdog in four different varieties, viz the Tervuren, Malinois, Laekenois, and Groenendael varieties. However, in America, the United Kennel Club recognizes them as four varieties of the same breed while the American Kennel Club accepts them as four separate breeds ( the Tervuren as Belgian Tervuren; the Malinois as Belgian Malinois; the Laekenois as Belgian Laekenois; Groenendael as Belgian Sheepdog)
The origin of the Belgian Sheepdog breed perhaps became pronounced in the late 19th century when a group of dog enthusiasts collected foundation stock from the Belgian regions of Tervuren, Mechelen, Laeken, and Groenendael. The operation was carried out under the auspices of Professor A. Reul. A breed club, the Club du Chien de Berger Belge, was established in Brussels in 1891. The following year, a breed standard was drafted, but it wasn't until 1901 that the breed was recognized by the Royal Saint-Hubert Society.