Bedlington Terrier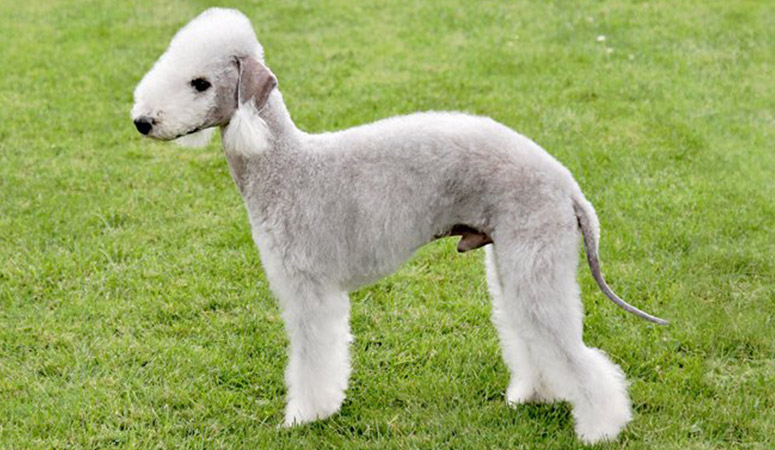 Named after the mining town of Bedlington where they were first bred, the Bedlington Terriers is a graceful terrier in sheep's clothing, they were originally bred to hunt vermin and later used in dog racing numerous dog sports, as well as in conformation shows and as a companion dog.
| | |
| --- | --- |
| Other Names | Rothbury Terrier, Rodbery Terrier, Rothbury's Lamb |
| Color | Blue, Blue & Tan, Liver, Liver & Tan, Sandy, Sandy & Tan |
| Height | Males: 16 to 17.5 inches. Females: 15 to 16.5 inches. |
| Weight | Males: 17-23 pounds. Females: 17-23 pounds. |
| Life Span | 11-16 years |
| Personality | Loyal, Charming, Frollicking |
| Exercise | Energetic |
| Origin | |
| | |
| --- | --- |
| Popularity | #151 |
| Groom Needs | 2-3 Times a Week |
| Kids Friendly | Yes with supervision |
| Dog Friendly | Yes with supervision |
| Watch Dog | |
| Family Dog | Yes |
| Litter Size | 3-6 |
Introduction
You can be forgiven for thinking the dog standing in the field is a lamb because that is just what he looks like, this strange-looking Bedlington terrier. He's a rare gem, too, active and bold and needs plenty of exercise to hold him back from being too mischievous and bored! He is about 16 inches at the shoulders and weighs around 23 pounds. He has a medium-length coat of both soft and hard hair which comes in colors such as blue with tan or without tan, sandy color with or without tan, liver with or without tan. Note that this dog's coat requires a lot of care, from regular brushing to clipping and trimming every few months. The breed is notably characterized by strange pear-shaped, tufted head, curly coat like a sheep, and an arched back. He is a fierce fighter and won't back down to a challenge. Even though he has a friendly appearance, he can be quite unwelcoming to other pets. The Bedlington needs a garden, as they are fond of barking, chasing, and digging, and are swift runners. Being feisty and really observant of their surroundings, they will alarm their owners to strange visitors or activities; making excellent watchdogs.
Living with Bedlington Terrier
History
The Bedlington terrier originates from England – he appeared in the parish of Bedlington in Northumberland, England in the early 19th century.
Back in the day, he was bred to kill rats, badgers, and other vermin.
He was originally known as the Rothbury Terrier, after a district on the English coast. Lord Rothbury had an estate in Bedlington and he loved the Bedlington's and the name eventually stuck.
This breed was adored by the gypsy nail makers – and they would use this dog as a hunter of foxes, hares, badgers and rats.
Around 1825, a Rothbury dog was mated to a Bedlington bitch and this is what produced the Bedlington terrier. It is believed that the Otterhound and the Dandie Dinmont terrier were also part of the mix that contributed to the genes of the breed.
Over time, the elite began to welcome this dog into their homes, valuing them as first-class well-behaved companions.
By 1880 the Bedlingtons had arrived in America and the first Bedlington registered in the country was Tynesider II, in 1993.
The Bedlington terrier was inducted by the American Kennel Club in 1967 – he is larger in stature than his earlier counterparts.