Bearded Collie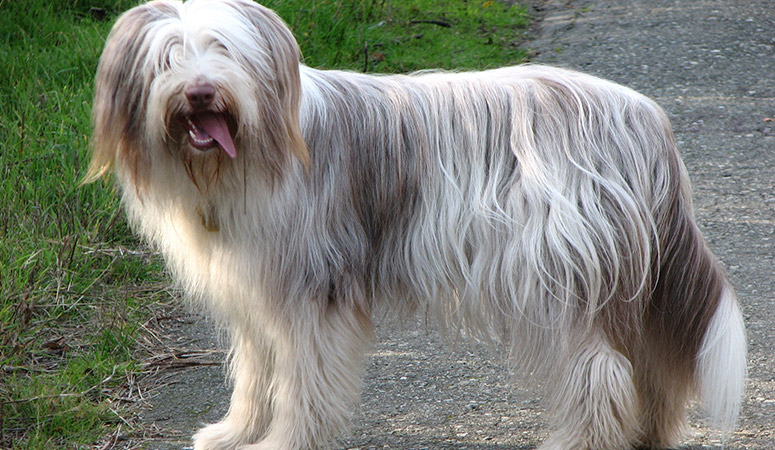 The Bearded Collie leaves the impression of strength and agility with medium size and long, lean, strong body. As a sheep herding breed, he has the ability to make sharp turns, quick starts, and sudden stops, which can be kept for a long period under all conditions. Independent and friendly, they are enthusiastic companions of the family.
| | |
| --- | --- |
| Other Names | Beardie |
| Color | Black, Blue, Brown, or Fawn, with White Markings |
| Height | Males: 21-22 inches. Females: 20-21 inches. |
| Weight | Males: 40-60 pounds. Females: 40-60 pounds. |
| Life Span | 12-14 years |
| Personality | Smart, Bouncy, Charismatic |
| Exercise | Regular Exercise |
| Origin | |
| | |
| --- | --- |
| Popularity | #136 |
| Groom Needs | Daily Brushing |
| Kids Friendly | Yes |
| Dog Friendly | Yes |
| Watch Dog | |
| Family Dog | Yes |
| Litter Size | 4-12 pups |
Introduction
The Bearded Collie doesn't appear stocky but it is strongly built, with a long body that is nicely trimmed. They are medium-sized dogs bred originally for their exceptional herding characteristics. Beardies are known for being playful, energetic, and boisterous. Like many other breeds, early training is required to keep them under control. They come in a shaggy double coat, abundant facial hair, and an upbeat spirit. Bearded Collies have color varieties of black, fawn, brown, or blue with markings of tan or white.
As typical medium-sized dogs, standard Beardies are likely to stand 20-22 inches at the shoulder, regardless of gender, and weigh between 45 and 55 pounds at the weighing scales. They make reasonable companions and get along with children. Bearded Collies have an average lifespan of 11-14 years.
Living with Bearded Collie
History
The Bearded Collie had a rough job to handle while growing up in Scotland. Scottish farmers kept them to herd their livestock. They became acclimated with the strenuous mountainous ranges and Scottish highlands, earning themselves the names Highland Collies and Mountain Collies. They thrived in herding stock and driving them to market. The story of their descent features a Polish trader, Kazimierz Grabski, who was said to have traded a consignment of grains for sheep in Scotland, by ship. He had purchased some Polish Lowland Sheepdogs to assist in herding the flock. The story goes that a Scottish Shepherd developed an interest in the dogs and purchased a large number of them in exchange for sheep, and began to breed them.
Some paintings and pictures of the 18th century feature the Bearded Collie, serving as a testament to their long existence. The Polish Lowland Sheepdogs were subsequently bred with several Scottish breeds and probably with an exotic breed, the Komondorok. Several crosses stabilized the name Bearded Collie. The Bearded Collie had established its place in the show circuit when the First World War diminished what influence they had till they were almost extinct. However, the hiatus between the world wars was a regenerative era for the breed. British breeders had taken up the gauntlet to salvage this uncommon breed. Mrs. G. Olive Willison is credited with developing and improving the modern Bearded Collie in 1944 from crossing a dog thought to be a Shetland Sheepdog with a Bearded Collie. The first Bearded Collie puppies to be sired in the United States came in 1967, after which the American Kennel Club registered the Bearded Collie in its Studbook in 1977.