Beagle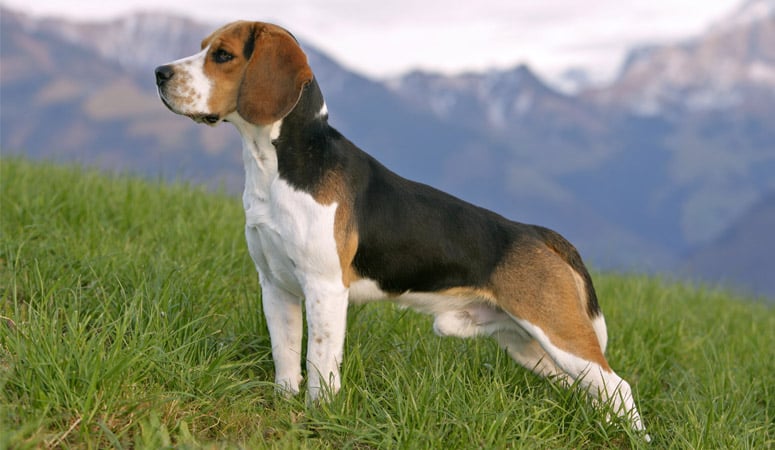 The Beagle's small size, calm temperament, and pleasing attitude have made it a favorite dog among many families and law enforcement.
| | |
| --- | --- |
| Other Names | English beagle |
| Color | Tricolor or white in combination with black & tan/brown or brown/tan |
| Height | 13 inches & under, 13-15 inches |
| Weight | <20 pounds (<=13 inches), 20-30 pounds (13-15 inches) |
| Life Span | 10-15 years |
| Personality | Merry, intelligent, and even-tempered |
| Exercise | Energetic |
| Origin | |
| | |
| --- | --- |
| Popularity | #7 |
| Groom Needs | Weekly |
| Kids Friendly | Yes |
| Dog Friendly | Yes |
| Watch Dog | |
| Family Dog | Yes |
| Litter Size | 5-10 |
Introduction
What you get in Beagle is a friendly and happy-go-lucky dog, not too big, but full of energy and curiosity. Their coat is so easy to take care of because it's short – all these things make Beagle one of the most popular breeds in the USA today. Originally, Beagle's purpose was to hunt small game like hares and rabbits. But today it does working service such as termite detection, acts as a companion dog, and stars in movies and commercials to name a few. Even though our Beagle is a relatively low maintenance dog, it is a pack dog, requiring a lot of attention and regular company. He stands about 40 cm and weighs about 11 kg. There are many different color variations of Beagle, from the traditional tricolor of black, tan, and white. Regardless of the color combination, look and see that all Beagles have white-tipped tails, known as their 'flag' or 'stern'. When they are out hunting in the long grass, their nose is down with tail in the air, and their white tip of the tail is noticed by their owners.
History
The early origins of Beagle aren't all that well defined, but it is said they have been around since Roman times.
William the Conqueror brought what was called Talbot hounds to England – these were white dogs with deep voices and slow in movement. It is thought that these dogs were crossed with Greyhounds to get what is Beagle today.
Back in medieval times, Queen Elizabeth I liked to call her beagles "Singing Beagles", allowing them to cavort on the tables amongst the cups and plates. These so-called pocket beagles have become extinct; nevertheless, the modern beagles have been recreated to be called Queen Elizabeth Pocket Beagles.
A beagle pack in Essex in the 1830s was believed to form the foundation for Beagle breed we know today.
Beagles were brought to the USA in the 1840s; now they are ranked seventh most popular breed in the USA with the American Kennel Club (AKC).
Remember though, there are 2 varieties of Beagle – ones that stand under 13 inches at the shoulder, and those that are a bit taller; between 13-15 inches at the shoulder. Both varieties are solid and sturdy and as the dog folks say, "big for their inches," – that's our Beagle!