Basenji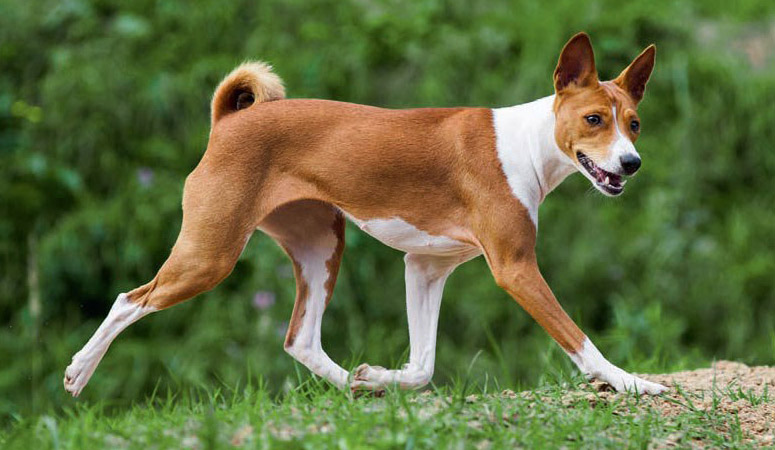 Here comes an outdoor companion, Basenji. Compact in size and smart in intelligence, Basenjis are suitable for agility competitions. Brisk walks and energy run-off can be attractive for Basenjis. Some inheritable disease might exist so testing is important.
| | |
| --- | --- |
| Other Names | African Barkless Dog, African Bush Dog, Ango Angari, Avuvi, Congo Bush Dog, Congo Dog, Congo Terrier, Zande Dog |
| Color | brown |
| Height | Males: 16-18 inches. Females: 15-17 inches. |
| Weight | Males: 23-24 pounds. Females: 21-22 pounds. |
| Life Span | 13-14 years |
| Personality | Independent, Smart, Poised |
| Exercise | Energetic |
| Origin | |
| | |
| --- | --- |
| Popularity | #87 |
| Groom Needs | Occasional Bath/Brush and Occasional Shedding |
| Kids Friendly | No |
| Dog Friendly | Yes with supervision |
| Watch Dog | |
| Family Dog | |
| Litter Size | 3-5 puppies |
Introduction
The Basenji is an African dog with glistening short coats, curled up tails, and wrinkled forehead. They have a keen sense of smell and are "quick to the chase". When the Basenji runs, it leaps vertically up and down, and it strides with a graceful and confident deportment that reminds one of a racehorse.
Basenjis are small and compact dogs, belonging to the Hound group. As such, they have a sturdy build and keen eyesight. A standard male weighs somewhere around 24 pounds, while a female weighs between 21 and 22 pounds. Generally, the females appear only a bit smaller than the males. The female stands at 15-16 inches from shoulder to paw, where a male stands taller, measuring only about 1 inch more (16-17 inches). The Basenji is an amiable and independent dog, with a life expectancy of 12-14 years. They are ranked 87th most popular dog breed by the American Kennel Club.
History
Originally called the African Bush Dog, the Basenji only got its current name around 1937 when a pair of it was brought into the United Kingdom. The Basenji is a pariah-type dog of ancient African civilization. While some believe that this dog breed had originated in Zaire (Congo), others claim that the Basenji has Egyptian roots. Another report states that the Basenji had developed sufficiently somewhere else before they were offered as gifts to the Pharaohs of Egypt. Nonetheless, what is clear about the history of the Basenji is that they are descendants of the semi-wild dogs that dominated the regions of the Nile and Congo rivers. The name Basenji,
The Basenji is an ancient dog, how old we can't say with certainty. Early historical records depicting the Basenji are seen in ancient Egyptian artifacts, and artworks of old Babylon and Mesopotamia, before the 1800s. The natives of the region around the Nile and Congo rivers fancied the Basenji as incredible hunting dogs, what with their powerful strides, explosive speed, the unique vertical leaping, and a keen sense of smell.
The Basenji was introduced into Europe around 1896 by European explorers returning from. Africa. Although the first pair of Basenji, died the same year, the breed was later imported into England in 1937 and was exhibited publicly. The first Basenjis in the U.S are believed to have been imported by a Boston breeder who got them, male and female. The name Basenji literally translates to "dog of the villagers" or "dog of the savages".