Azawakh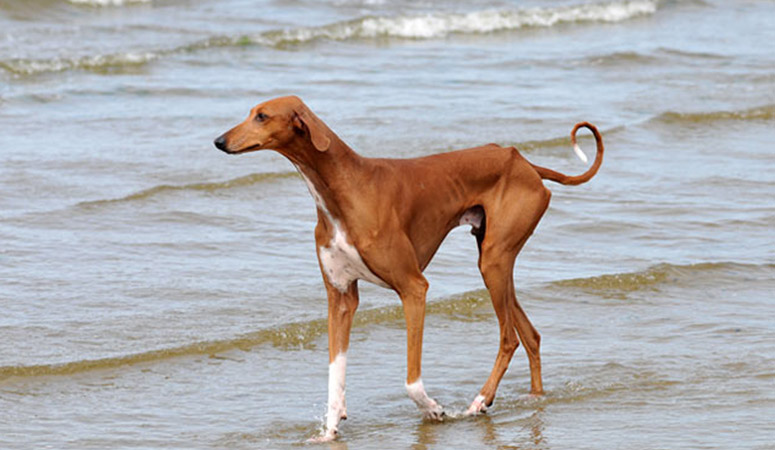 The Azawakh is a lean and swift hunter with a regal presence, originated from West Africa. They were bred as sighthounds with keen vision and blazing speed to fix and chase their prey. The Azawakh excels as a companion, guardian and a lure courser in the United States. Proud but loyal, they are please to protect their home and family.
| | |
| --- | --- |
| Other Names | Idi, Hanshee, Oska, Rawondu, Bareeru, Wulo, Tuareg Sloughi |
| Color | Black, Blue, Brindle, Brown, Cream, Fawn, Gray, Red, Sandy, White |
| Height | Males: 25-29 inches. Females: 23.5-27.5 inches. |
| Weight | Males: 44-55 pounds. Females: 33-44 pounds. |
| Life Span | 12-15 years |
| Personality | Loyal, Independent, Deeply Affectionate |
| Exercise | Regular Exercise |
| Origin | |
| | |
| --- | --- |
| Popularity | #190 |
| Groom Needs | Weekly Brushing |
| Kids Friendly | Yes with supervision |
| Dog Friendly | Yes with supervision |
| Watch Dog | |
| Family Dog | Yes |
| Litter Size | 4 to 6 puppies |
Introduction
The Azawakh is an elegant and athletic dog, leggy, and well-muscled. It's such a fine breed, its lean skin reveals the muscle and bone beneath it. The Azawakh may appear starved to one who doesn't understand the nature of the breed. It comes in a body that is longer than it is tall, and a head bearing its narrow muzzle. The Azawakh has excelled as a sighthound due to its keen sight and swiftness. The short, fine coat of the breed comes in almost any color combination, although predominant colors include fawn, red, particolored and brindle.
A male dog of the breed normally stands 25-30 inches from shoulder to paw and weighs roughly 45-55 pounds. Females run quite smaller, being 23-28 inches tall at the shoulder and 32-45 pounds heavy. They are loyal to the family and indeed kind and affectionate. The Azawakh has a lifespan of 12-15 years.
History
The Azawakh is a relatively unpopular breed of dogs in Europe and America. The history of this breed seems to be wrapped in a glove, and yet eludes many historians. However, some believe that the Azawakh shares similar ancestry with dogs such as the Sloughi and Saluki. Much is yet to be discovered about this breed as it is regarded as a new breed since the knowledge of its temperament and characteristics is as yet, elementary. Owing to lack of evidence regarding the breed's history, other reports and rumors have begun to attempt to explain its origin. The majority of these sources are of the opinion that the Azawakh originated in sub-Saharan Africa, especially in the Sahel region bordering Mali and Niger. Some of these opinions went further to link the emergence of the Azawakh with a Basenji descent. In any case, what is clear is that the Azawakh is a Pariah type of dog that had probably existed thousands of years ago in West Africa, although it only began to rise to fame.
From time immemorial, the Azawakh had probably existed in West Africa as a pack hunting breed. Some reports claim that they enjoyed certain privileges among the native Tuareg nomads, and in return, they rendered protection to the household and property. They are remarkable for their speed and stamina, running up to 40 meters per hour. The Azawakh was brought into America in the 1980s and has since been struggling to gain popularity. The United Kennel Club recognized it in 1993. Although the American Kennel Club (AKC) accepted the breed into its Foundation Stock Service, as a member of the Hound Group, the Azawakh is yet to be recognized by the AKC.
Helpful Information
Breed Club: AMERICAN AZAWAKH ASSOCIATION
Breed Club Link: http://azawakh.org/
Breed Club Rescue: