Australian Shepherd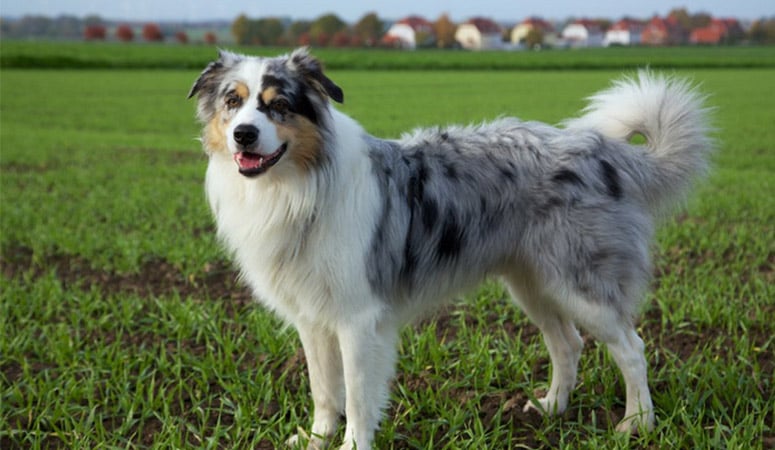 The Australian Shepherd, also known as the "Aussie", is originated in the western United States, despite their name. They are flexible, agile, and slightly longer than its height, in medium size and bone, and they are loving, smart, independent, bold and responsible. If their intelligence and energy are guided to dog sports or activities, they could become great family partners.
| | |
| --- | --- |
| Other Names | Aussie |
| Color | Black, Blue Merle, Red, Red Merle |
| Height | Males: 20-23 inches. Females: 18-21 inches. |
| Weight | Males: 50-65 pounds. Females: 40-55 pounds. |
| Life Span | 12-15 years |
| Personality | Smart, Work-Oriented, Exuberant |
| Exercise | Energetic |
| Origin | |
| | |
| --- | --- |
| Popularity | #13 |
| Groom Needs | Weekly |
| Kids Friendly | Yes |
| Dog Friendly | Yes with supervision |
| Watch Dog | Yes |
| Family Dog | |
| Litter Size | 5-10 |
Australian Shepherd Video
Introduction
An Australian Shepherd is similar in appearance to an English Shepherd and a Border Collie in their bi- and tri-colored coats showing shades of black, tan, blue, or red. But unlike the others, the Aussie (another name for the Australian Shepherd) coat may twist and curl as much as it can be straight too. Mind you, the Aussie is built slightly bigger than the English breed.
Considered the 17th most popular dog breeds in the U.S, Australian Shepherds have been recognized as herd dogs with clear distinction. In fact, Aussies are reputable cowboy dogs. Their willingness to serve and be trained makes for a good work-dog. Added to a keen vision and sophisticated intelligence, the Aussie has all the trappings of any versatile and highly adaptable dog breed.
A standard Australian Shepherd male moves in a lean frame as high as 22 inches and weighs in the range of 50-65 pounds. In the fashion of most dog breeds, a female Aussie is equally a few points short of the size of the male. At a shoulder height of around 20 inches, she packs a robust 40-55 pound-weight in her frame.
Australian Shepherds are herd dogs, which makes them potential workaholics with incredible energy. Even at that, they can survive the stressful work-life and reach an average lifespan of 14 years.
Living with Australian Shepherd
History
The name 'Australian Shepherd' is, perhaps, specious in determining the origin of this breed of dogs as there is nothing else Australian about them. Instead, the Australian Shepherd is regarded as a typical American dog breed with a somewhat obscure ancestry.
Probably a product of Basque migration from Europe into the western U.S in the early 18th century, Aussies have been linked to the Pyrenean Shepherd breed, which is native to the Basque people of Northern Spain. Further information has revealed that the Australian Shepherd developed significantly in the west coast of America in the 18th and 19th centuries as a hybrid of the Pyrenean Shepherd and a host of other herding dogs, such as the Border Collie and Smithfield Sheepdogs.
Ironically, the name for this dog breed has markedly evolved over the years. It was previously called the Spanish Shepherd, especially due to the belief that they used to be shepherds' dogs in old Spain. California Shepherd, Bob-Tail, New Mexican Shepherd, and Pastor Dog are other names that were used to refer to the Aussie.
It is possible that the name, Australian Shepherd, has its origin from the fact that the Basque people settled for a brief period in Australia in the course of their migration to the western U.S.