American Hairless Terrier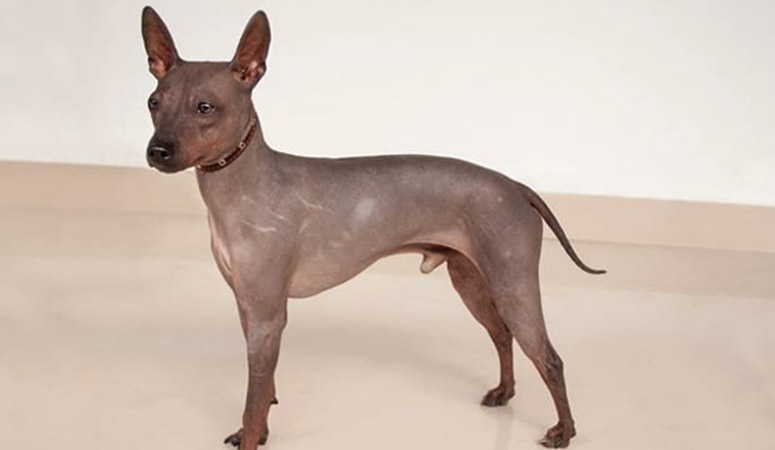 The American Hairless Terrier a small, well-muscled, and active terrier that can either be of the hairless or coated variety, and they are the only hairless dog breed indigenous to the United States. Nowadays, they are known as active companion dogs and especially good choices for allergy sufferers.
| | |
| --- | --- |
| Other Names | Rat Terrier – Hairless Variety |
| Color | variety of colors and patterns with white |
| Height | Males: 10-18 inches. Females: 10-18 inches. |
| Weight | Males: 5-16 pounds. Females: 5-16 pounds. |
| Life Span | 14-16 years |
| Personality | Energetic, Alert, Curious |
| Exercise | Calm |
| Origin | |
| | |
| --- | --- |
| Popularity | #124 |
| Groom Needs | Ocassionally |
| Kids Friendly | Yes |
| Dog Friendly | Yes with supervision |
| Watch Dog | |
| Family Dog | |
| Litter Size | 3-5 |
American Hairless Terrier Video
Introduction
The athletic and inquisitive American Hairless Terrier is a true member of the Terrier Group, unique for its hairless coat and matchless courage, though recent evidence shows that this dog breed still has a coated variety. American Hairless Terriers are born with hair, but begin to lose them with age due to genetic factors. Care should be taken to protect them from sunburns and extreme weather conditions like the cold. They come in different color varieties, including white.
The standard size of this breed stands 12-17 inches at the shoulder, though females run quite smaller than the males. The same dog is likely to tip the weighing scales towards 16 pounds, if fully grown. American Hairless Terriers have a broad head, notable for being wedge-shaped. They make good watchdogs and amiable companions. Their lifespan is 13-16 years.
Living with American Hairless Terrier
History
The American Hairless Terrier developed as a variant of the Rat Terrier. Rat Terriers originated in England, but the American Hairless Terrier has American roots. In the 1800s, ratting was popular in England as there was rampant dissemination of vermin in homes, farms and workplaces alike. A ratting breed, popular at the time as Feists, which descended from a cross between Smooth Fox Terriers and Manchester Terriers was a common ratter of the 19th century.
These resilient little ratters were recognized as Feists until they arrived in the United States. It was said that British miners who sought to make a living across the Atlantic came into America along with dogs believed to be Feists in the 1890s. It was during this period that the Feists were further crossed repeatedly with the Smooth Fox Terrier, and even though these crosses didn't seem to add significantly to the gene pool and the features of the breed, they served to strengthen and consolidate the existing features of the breed.
President Theodore Roosevelt was popular with Feists (he had about three of them and the most famous one was called Skip). He named his Feist dogs "Rat Terriers" and the name stuck to date. In 1972, however, something noteworthy happened which resulted in the American Hairless Terrier. A hairless puppy was sired by a Rat Terrier belonging to Edwin and Willie Scott of Louisiana. This hairless dog, named Jemimah, formed the foundation stock of the American Hairless Terrier.
The American Hairless Terrier was still recognized as the hairless variety of the Rat Terrier before 2004 when it gained recognition from the United Kennel Club. It wasn't until 2009 that an American breed club was established for the breed. The American Hairless Terrier was officially recognized by the American Kennel Club in 2016.