American Eskimo Dog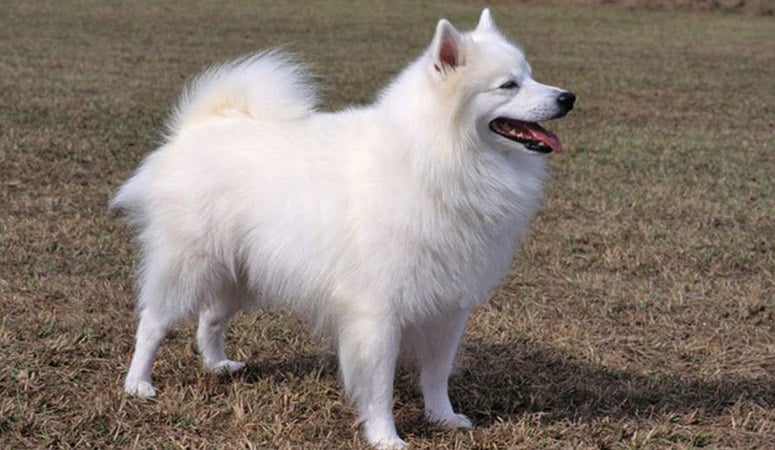 The American Eskimo is a striking dog who has a white coat, sweet expression, and black eyes, and he is called "the dog beautiful" by admirers. They are intelligent and playful dogs who would be thrilled at any chance to entertain. Neither shy nor aggressive, always alert and friendly, they are generally obedient companions.
| | |
| --- | --- |
| Other Names | American Deutscher Spitz, American Eskimo Spitz, American Spitz |
| Color | White, White & Biscuit |
| Height | Males: 15-19 inches. Females: 14-18 inches. |
| Weight | Males: 18-35 pounds. Females: 18-35 pounds. |
| Life Span | 13-15 years |
| Personality | Playful, Perky, Smart |
| Exercise | Energetic |
| Origin | |
| | |
| --- | --- |
| Popularity | #120 |
| Groom Needs | Weekly |
| Kids Friendly | Yes |
| Dog Friendly | Yes with supervision |
| Watch Dog | |
| Family Dog | Yes |
| Litter Size | 5-7 |
American Eskimo Dog Video
Introduction
Commonly called the Eskie, the American Eskimo Dog is a highly social animal, fraught when neglected, and highly intelligent. They move with a courageous and brisk stride and are lovable companions and family friends. The double coat, usually white in color, comprises a short and dense undercoat covered by a longer coat of hair that forms the topcoat. The chest and neck regions are covered by thicker fur.
There are three size varieties of the Eskie — toy, miniature and standard sizes. Toy sizes are diminutive, standing around 9-12 inches tall and weighing a mere 6-10 pounds. Standing 12-15 inches at the shoulder and weighing about 12-20 pounds, miniature-sized Eskies appear larger than the toy size variety. However, standard-sized members are elegant, measuring somewhere around 15-19 inches from shoulder to paw and likely to tip the weighing scales within the range of 25-35 pounds. The American Eskimo Dog has an average life expectancy of 12-15 years.
Living with American Eskimo Dog
History
Contrary to their name, the American Eskimo is no more associated with Eskimos than it originated in America. They are Spitz-type dogs with a German origin. However, the name was changed to what it is known as today after World War I when a distaste for Teutonic affairs burned strongly in America. The German Spitz are believed to be ancestors of the breed, although, along the line, Japanese Spitz was said to have been bred into the gene pool. It is believed that German immigrants had their German Spitz dogs imported when they came to reside in regions of America, especially Wisconsin, Ohio, and Minnesota in the 1800s. They started out as farm dogs, moved on to become reputable watchdogs and more recently, companion dogs.
Its American history began to take a relish after World War I as many American breeders, in the spirit of patriotism, took a preference to call their dogs "American Spitz". The beautiful appearance of the American Eskimo Dog, which it was later called (as adopted from a breed club name in Ohio), suggests that it was cut out for something else beyond the tatters of the farm. This became clear around the 1930s and 1940s when the American Eskimo became a fast favorite in the circus business and the dog show. Famous amongst these include the Barnum and Bailey Circus which even sold puppies at the end of shows.
The American Eskimo was first recognized as such in 1919 by the United Kennel Club. They were accepted as single dogs since there was no breed club for them at the time. The National American Eskimo Dog Association (NAEDA) was founded in 1970, after which they were registered as a breed. A breed club was formed in 1985 and was first registered by the AKC in 1995.