Alaskan Malamute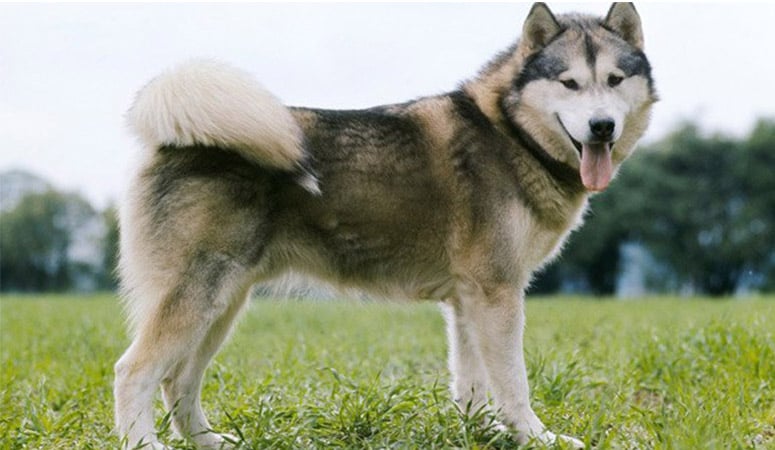 The Alaskan Malamute is intelligent, loving and affectionate. As a social breed, he is friendly to other pets or people. When becomes matured, he will behave with more confidence and calmness. With a powerful, sturdy body built, this breed excels in many training tasks and various sports. So he possesses great strength and stamina.
| | |
| --- | --- |
| Other Names | Al Mal, Malamute, Malamute De Alaska, Malamute De L'Alaska |
| Color | Gray & White, Sable & White, Black & White, Seal & White, Red & White, White |
| Height | Males: 25-28 inches. Females: 23-26 inches. |
| Weight | Males: 85-124 pounds. Females: 75-124 pounds. |
| Life Span | 10-14 years |
| Personality | Affectionate, Loyal, Playful |
| Exercise | Regular Exercise |
| Origin | |
| | |
| --- | --- |
| Popularity | #64 |
| Groom Needs | 2-3 Times a Week Brushing |
| Kids Friendly | Yes with supervision |
| Dog Friendly | Yes with supervision |
| Watch Dog | |
| Family Dog | Yes |
| Litter Size | 4–10 |
Introduction
Recognizable by its plume tail which is amply covered with fur, is the cheerful Alaskan Malamute. A large breed of domestic dogs with strong and weighty bones, perhaps an adaptation for the hard work they engage in. They come in a thick double coat of sable, red, black, or gray color, often with white markings. There are all-white color varieties too.
A standard male stands to a shoulder height of about 24-26 inches. The females run quite smaller than the males and are likely to have a height of 22-24 inches. As medium-sized to large-sized dogs, Malamutes weigh somewhere between 75 and 85 pounds, with the males packing more muscle weight than the females. An Alaskan Malamute is a playful and devoted companion. If the conditions are right for its breeding, a Malamute would lead a dignified life, up to an impressive age of 11-14 years.
Living with Alaskan Malamute
History
The name, Malamute, is derived from the Mahlemut, an Inuit tribe that occupied the Kotzebue Sound in northwestern Alaska. The Alaskan Malamute is believed to have descended from the old wolf-dogs which accompanied certain Paleolithic hunters across the Bering Strait some thousands of years ago. They are acclaimed as the oldest of all sled dogs to have existed. The Alaskan Malamute was bred as something of a utilitarian nature, they were more or less versatile working dogs, hunting dogs, packing dogs, and sled dogs.
The Inuit heritage spread across Alaska up to the Arctic northern countryside of Greenland. Considering the expansive size of the region occupied by this tribe, the breed was subject to variation in patterns of breeding from a part of Alaska to another, even up to Greenland. Hence, it is no odd occurrence that there should be different genetic strains of the same dog breed across these regions. The Alaskan Malamute was never created to be a race dog, unlike some of the other sled dogs, such as the Siberian Husky. The Malamute was more of a slow-paced freight breed for heavy loads, especially in old Europe.
During the 1896 Klondike Gold Rush, the Malamute and other sled dogs were of immense help to gold prospectors of the Arctics. The Kotzebue strain of the Malamute gained recognition around 1935, owing to the efforts of one Mrs. Eva B. Seeley. After World War II, the population of the Malamute had diminished, which prompted the AKC to reopen the studbook for the inclusion of M'Loot and Hinman strains, mainly through the efforts of Robert J. Zoller.