Akita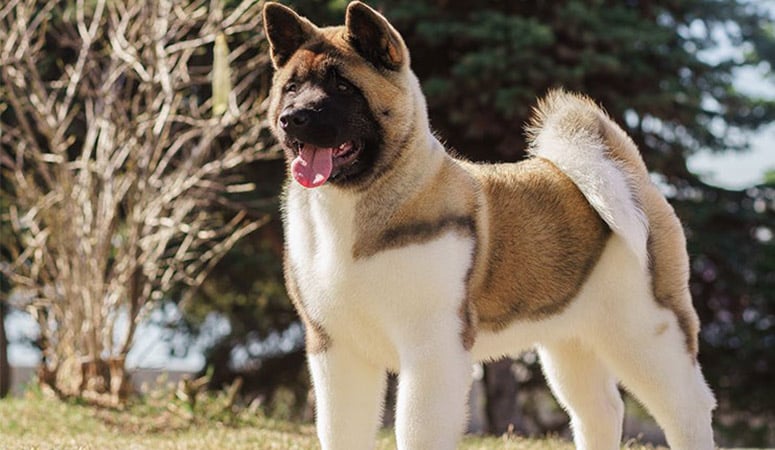 Large, alert, and wise, the Akita is a powerful dog breed with a noble and intimidating presence. Originally from Japan, they were used for guarding royalty and nobility. Akita is kind, playful, and loving with their families, but they are restrained to the strangers. Although eager to please, they have a strong and independent streak and fixed boundaries.
| | |
| --- | --- |
| Other Names | Akita Americain, Akita Americano, American Akita, Amerikanischer Akita |
| Color | Black, Brown, Red, White |
| Height | Males: 26-28 inches. Females: 24-26 inches. |
| Weight | Males: 100-130 pounds. Females: 70-100 pounds. |
| Life Span | 10-13 years |
| Personality | Courageous, Dignified, Profoundly Loyal |
| Exercise | Energetic |
| Origin | |
| | |
| --- | --- |
| Popularity | #47 |
| Groom Needs | Daily |
| Kids Friendly | Yes with supervision |
| Dog Friendly | No |
| Watch Dog | Yes |
| Family Dog | |
| Litter Size | 7-8 |
Introduction
The original Japanese Akita has a short double coat, that is present in red, brindle, ginger or white color varieties, with white markings anteriorly. This is unlike the American Akita which often has a mask and pinto covering. The Akita is a tough and powerful breed, with a commendable meticulous twist to the execution of duties. Fond of standing aloof to strangers, yet they are surprisingly friendly companions to their family members.
A standard male weighs approximately 105-125 pounds and stands to a height of 26-28 inches from paw to shoulder. A similar female is equally prominent in proportions, weighing close to 90 pounds, at a shoulder height of 23-26 inches. The Akita is a loyal protector of home and family, often out-doing themselves for loved ones.
This breed has risen out of the clutches of extinction to become a well-recognized dog breed in different countries of the world. On average, Akitas live to the age of 12 or 13 before they eventually die.
History
The Akita dog breed is a native of Japan. It has a complicated history that dates back to 7th century Japan. Their ancestors, the Matagi Inu dogs, were hunting dogs, used for poaching wild boar, local deer, bear, and some other wild sports. They were popular amongst the Matagi tribe of Japan. Myth has it that the Matagi Inu dogs were probably developed from Spitz-type dogs brought into northern Japan from eastern Europe when the country was not yet an island.
In Japan, upheavals tend to disrupt the steady growth of native dog breeds. There were times when a drastic decline would occur and also times when conscious efforts were made to cause the flourish of the existing breeds. The Matagi Inu, ancestors of the modern-day Akita weren't left out of the undulating experience. However, things later improved with the turn of the 20th century.
In the early part of the 20th century, dogfighting became a popular sport in Japan and some parts of Europe. Breeders saw a need to develop a larger breed that could compete at the fights, hence Matagi Inu dogs were crossed to large size mastiff dogs of both Europe and Asia. This gave rise to a variety of this breed that was a bit divergent with the original breed.
It was in 1931 that the name 'Akita' was used to identify the native original Matagi Inu breed. Other varieties related to this breed were also recognized in Japan, shortly after which a standard for the breeding of the Akita was drafted in 1934. After World War II, the population of these dogs was depleted almost to extinction due to mass killing for their fur to be used for military purposes. Years later, breed fanciers and other organizations successfully resuscitated the lineage of this breed to what we know today. The Akita was recognized by the American Kennel Club in 1955.