Afghan Hound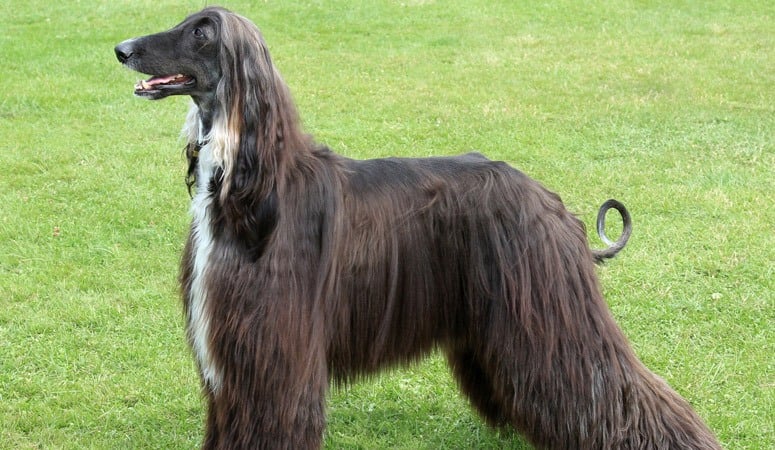 Afghan Hound have the reputation of intelligence and obedience. Many of Afghan Hounds are almost white, while some are white with islands of red or black.They usually have shorter-haired saddle on its back, special features of The fine-textured and long coat Afghan Hounds. They need regular brushing and considerable care. Also they need enough exercises to keep themselves healthy.
| | |
| --- | --- |
| Other Names | Da Kochyano Spay, Sage Balochi, Ogar Afgan, Barakzai Hound, Eastern Greyhound/Persian Greyhound |
| Color | Gold/Fawn/Brindle/Red/White/Cream/Blue/Gray/Tricolour |
| Height | MALES: 26-29 INCHES. FEMALES: 24-28 INCHES. |
| Weight | MALES: 55-65 POUNDS. FEMALES: 45-55 POUNDS. |
| Life Span | 12-15 years |
| Personality | Dignified, Profoundly Loyal, Aristocratic |
| Exercise | Lots of Activity |
| Origin | |
| | |
| --- | --- |
| Popularity | #111 |
| Groom Needs | Daily Brushing, Infrequent Shedding |
| Kids Friendly | Yes with supervision |
| Dog Friendly | Yes with supervision |
| Watch Dog | |
| Family Dog | |
| Litter Size | 6–8 |
Introduction
A beautiful regal looking dog is the Afghan, independent, and strong-willed. When you look at the Afghan hound's coat, you realize that this is a high-maintenance dog and it all amounts to its grooming and its exercising needs. Grooming is imperative and only if you are willing to spend hours on grooming, or are willing to pay professional groomers to do it, should you consider the Afghan. He needs quality exercises, too. Failure to provide him with this will produce a dog with destructive behavioral habits. They require at least a mile or two of walking daily and a fenced yard for running. They can also be a challenge to train because of their independent natures – training can take a long time, and requires a lot of patience. They stand about 27 inches at the shoulders and weigh around 65 pounds. The long silky hair comes in coats of many colors from black, to black and tan, red, cream, domino, white and blue. The dogs are very slim so don't pile the food into his plate – ensure though, that he gets nutritious organic foods and oils to keep him and his hair glorious and healthy.
History
The Afghan originates from Afghanistan, where the original name for the breed was Tazi. Actually, the Afghan is considered to be one of the oldest dog breeds.
The Afghan breed was developed to bring down game in mountainous terrains. There are some eyewitness accounts of Afghans even bringing down leopards by taking hold of their necks and severing the leopard's spine.
Afghans were transported out of the Middle East with British soldiers returning from the Indian-Afghan border war, back to England. The dog became very popular because it was such a 'glamorous' dog. It was at its most popular in the 1970s.
Some first writings of the Afghan are of an English officer stationed near Kabul. He kept Afghan hounds at his Ghazni Kennel which were transported to England in 1925, making their way to the USA as well.
The breed was recognized by the American Kennel Club in 1926 and the Afghan Hound Club of America was admitted for membership with the AKC in 1940.
Do you remember Barbie? And her pet Afghan hound, Beauty – how they crept into the hearts of countless American girls' hearts!
And in 2005, South Korean scientists successfully cloned a dog – it was a male Afghan hound puppy, called Snuppy. Three years later, Snuppy was part of the first successful breeding between a pair of cloned dogs.
Then in the 1980s, the Afghan became a popular AKC show ring star.