Affenpinscher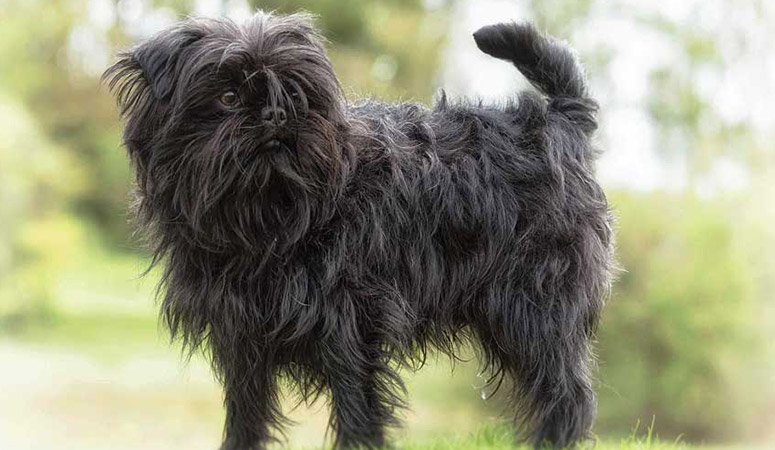 Here comes a small dog with an adorable monkey face. Do you wonder how can a fluffy and plain-looking dog get favored by many people? Shaggy as they are, Affenpinschers are clean somehow. Good body structure offers them balance and efficiency when walking, flipping, running.
| | |
| --- | --- |
| Other Names | Affen, Diablotin Moustachu, Monkey-Faced Dog |
| Color | Gray, fawn, black, tan, red |
| Height | Males: 9-12 inches. Females: 9-12 inches. |
| Weight | Males: 6-13 pounds. Females: 6-13 pounds. |
| Life Span | 12-15 years |
| Personality | Excitable, loyal, entertaining, fearless, alert and inquisitive |
| Exercise | Regular exercise |
| Origin | |
| | |
| --- | --- |
| Popularity | #150 |
| Groom Needs | 2-3 times a week |
| Kids Friendly | Yes with supervision |
| Dog Friendly | Yes with supervision |
| Watch Dog | |
| Family Dog | |
| Litter Size | 2–3 puppies |
Introduction
Isn't he unusual, the Affenpinscher? No wonder this small dog is often called a monkey terrier or monkey dog. That's what it actually means in German. He is only around 11 inches at the shoulders and weighs around 10 pounds. This spunky little dog has a protruding jaw that makes him look like he is pouting! They are known to be playful and fearless, intelligent, mischievous, loyal, and affectionate, needing consistent training. They are prone to injury, so this might not be the right dog for you if you have young children. He makes an excellent watchdog, fearing nothing. They might be active little dogs, but they can still cope quite well without a yard which means he needs daily walks. The coat will need to be brushed twice a week and sometimes trimmed to keep him looking his best. He is rather sensitive to extreme temperatures with quite rough and dense coat. In hot weather, he can even experience breathing problems. They usually sport a black coat but you do get other colors like silver, red, black and tan, and a mix even of red, black, brown, and white hair.
Living with Affenpinscher
History
Their history can be traced back to France and Germany. Germany is claimed to be its native land, although there is no proper evidence to support their origin. He was bred to control rats in mills, farms, and homes in the 17th century. They rank as some of the oldest toy breeds used to create the Miniature Schnauzer and the Brussel Griffon.
The first Affenpinschers were imported to America in 1935 by a lady called Mrs. Bessie Mally of Cicero, Illinois. She founded her Zwergteufel Kennel, transporting dogs from Germany to America. A beautiful heiress, Evalyn Walsh McLean garnered priceless publicity for the Affenpinscher. This socialite, whom the paparazzi reported every detail of her life, had a canine pack which included Affenpinschers, Poodles, Great Danes, Saint Bernard's, Silky Terriers, Chihuahuas, and Brussels Griffons. These dogs were photographed with her, posing with all her jewels. Because of the roaring success of other German breeds like the German Shepherds and the Dachshunds, the Affenpinscher also seemed destined for popularity in America, but unfortunately, after World War II, they never fully recovered and remain a rare breed. In 1951, Lucille Meystedt founded Balu Affenpinschers in Texas. She was approved to judge Toy breeds; going on to produce 35 homebred Affenpinscher champions. She also founded the Affenpinscher Club of America – she was the breed columnist for Popular Dogs for many years. The American Kennel Club recognized this breed in 1936.